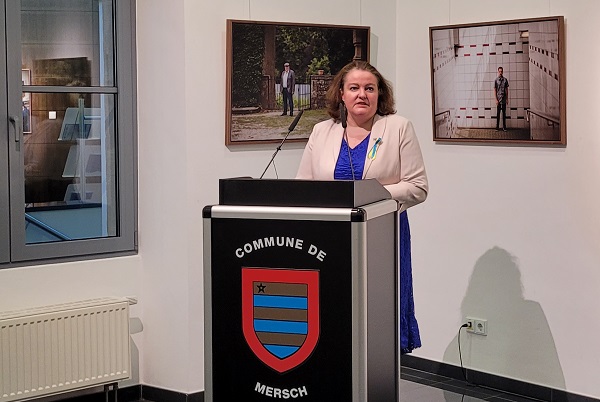 British Ambassador Fleur Thomas; Credit: Jazmin Campbell
This year's Festival of English-Language School Theatre (FEST) in Luxembourg kicked off on Friday evening with an opening reception at Mierscher Kulturhaus in Mersch, in the presence of the British Ambassador to Luxembourg, Fleur Thomas, and Alderman of Mersch, Michel Reiland.
Around 40 people attended the opening reception, which was an opportunity for the festival organisers, participating schools and special guests to catch up in person, around finger food and drinks, after two years of COVID-19 restrictions.
In his welcome speech, Alderman Michel Reiland presented some facts about Mersch, which he described as the "greenest" municipality in Luxembourg. Touching on the war in Ukraine, he noted that the municipality already houses over 340 refugees from seven countries in three different centres and is now ready to take in Ukrainian refugees as well. In fact, Ukrainian children will join two primary school classes in Mersch (Ecole fondamentale de Mersch) next week. Alderman Reiland added that the municipality is home to three secondary schools, including the Anne Beffort International School Mersch (École internationale Mersch Anne Beffort - EIMAB), which opened its doors in September 2021 and which he hoped would "be a part of FEST in the future".
For her part, British Ambassador Fleur Thomas stressed the importance of theatre for young people and the community in general. She highlighted how being involved in theatre can help young people prepare to speak in front of an audience and offer them an "opportunity to do things you wouldn't get the opportunity to do in a classroom". The British Ambassador also emphasised the role of theatre in creating a sense of community. She referred to the "tragic events in Ukraine", including the bombing of a theatre in Mariupol, and spoke of how "people come together through theatre" in "the worst times", for instance in wartime Britain. For the British Ambassador, events like FEST are an "opportunity to celebrate the best of theatre and the very best of community". She concluded by thanking the festival organisers, participating schools, students and their parents, all of whom have had to cope with issues related to the COVID-19 pandemic.
Tony Kingston, director and co-founder of the Berliner Grundtheater (BGT) and one of the organisers of FEST, thanked the municipality of Mersch and the British Ambassador for hosting the festival, as well as the sponsors, the organising committee and the entire FEST team for all their work. His biggest thanks went to the students who are taking part in the festival this weekend, many of whom had never been on stage before. "Because of COVID-19, we have had the added problem of two years of virtually no school theatre", he noted. Mr Kingston also emphasised that most of the young people taking part are performing in their fourth or fifth language. All this takes a "huge leap of courage". As such, he dedicated his speech to the "courage, bravery and enthusiasm of all the kids this weekend".
The opening reception was followed by two performances, which attracted a larger crowd: "The Internet Is So Distract… Oh Look! A Kitten", performed by Lycée Michel-Rodange (LMRL) students, and "Monsters", performed by students of the International School of Luxembourg (ISL).
FEST 2022 continues on Saturday 19 March 2022, with seven performances set to take place at Mierscher Kulturhaus throughout the afternoon and evening. Saturday's programme will kick off at 13:30 with a performance of "The Good, The Bad and the Ugly Sister" by European School Luxembourg II, under the direction of regular BGT actress Gina Millington.
Speaking to Chronicle.lu ahead of the festival about her directing debut, Gina Millington said it had been "a bit nervewrecking" but "a lot of fun". One of the most rewarding aspects had been getting her school group "excited about theatre", although the experience had not been without its challenges, namely students missing rehearsals due to COVID-19. Nervertheless, as someone who was involved in school theatre not that long ago, Gina Millington found she could "relate to them" and they felt they could "openly speak to her" throughout the process.
The Good, The Bad and the Ugly Sister, written by Siân Lewis, tells the story of a retired evil witch who discovers that her mirror has been lying to her for years - she is not the fairest of them all. She decides to get her revenge on everyone fairer than her - which is everyone.
There are still some tickets available for Saturday's performances on the Mierscher Kulturhaus website. Tickets cost €8 (€5 for students) per play.