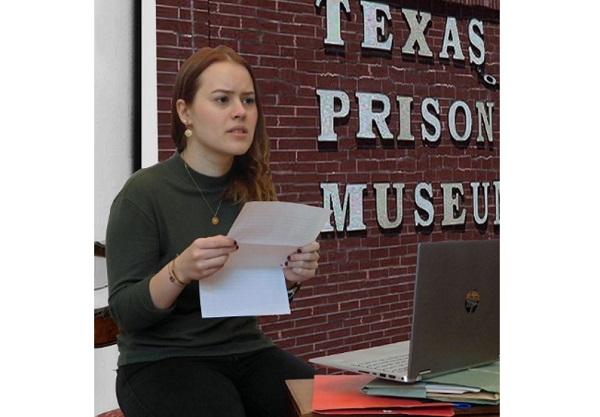 Lina Peller; Credit: BGT
Chronicle.lu recently got the opportunity to talk with the director, Tony Kingston, actress, Lina Peller, and designer, Laura Burman, of the upcoming BGT English-language play "The Road to Huntsville", which is being performed at Neumünster Abbey (neimënster) in Luxembourg-Grund on 7, 8 and 9 June 2021 at 20:00.
The play, written by Stephanie Ridings, is a one-woman show about a writer (played by Lina Peller) researching women who fall in love with men on death row, but who finds herself increasingly pulled in...
"The Road to Huntsville" is the BGT English Theatre Company's third annual showcase play for trainee actors, following the success of the 2019 and 2020 productions "Wolves Are Coming For You" and "David's RedHaired Death".
Live Theatre during a pandemic
Discussing the challenges of trying to get live theatre up and running as we slowly navigate our way out of the COVID-19 pandemic, director Tony Kingston noted that the situation has eased up since last year, although restrictions remain in terms of the number of people allowed during rehearsals and audience numbers. Whilst the situation is better in Luxembourg than elsewhere in the sense that theatres are open, most venues are using their smaller studio spaces rather than large theatre rooms due to these restrictions; this is also the case for "The Road to Huntsville", with audience numbers limited to around 30 people in Salle Edmond Dune in neimënster. Such restrictions have certainly had a financial impact on theatre companies like BGT, although Tony noted: "I think everyone is ready to take a hit at the moment just to keep things going, but only up to a point".
That being said, things are improving, and with the vaccine rollout speeding up, Tony was hopeful that things would gradually return to normal for theatre, perhaps even in time for another play he has planned for December.
In the meantime, the BGT has adapted to current restrictions by seeking out different rehearsal spaces and venues and keeping this summer's production small: "The Road to Huntsville" team is composed of Tony Kingston, his daughter and co-director Ferelith Kingston, Lina Peller and Laura Burman. Logistically speaking, it also made more sense to the team to hold this year's production earlier than normal (at the start rather than at the end of summer). The hope is that, by next year, things will be back to "normal" and the theatre company can put on a larger production next summer.
In addition, hundreds of viewers tuned in to the livestreamed performance of BGT's most recent production, "The Coronavirus Chronicles", back in February - another example of the theatre company adapting to audience restrictions during the pandemic. That being said, Tony stressed the continued importance of putting on live theatre: "Theatre is theatre and film is film".
The Road to Huntsville
Regarding the play itself, leading lady Lina Peller and designer Laura Burman explained that the story focuses on the subject of the death penalty in the United States and on the phenomenon of women falling in love with inmates, as well as the psychology behind this phenomenon. Tony added that the play starts off almost like a Ted Talk, featuring statistics on the subject, before launching into the story itself. He noted that "The Road to Huntsville" is a play that will raise questions.
In terms of set design, Laura explained that projections are heavily used in the first half of the play, providing a homely setting for Steph as she carries out her research. Staging is simple but realistic. The use of voiceovers adds to the multimedia approach of the play.
On the rewards and challenges associated with a one-woman show, Lina emphasised what a "unique opportunity and experience" this play was for her. So far, rehearsals have focused on character work, which is similar to what she was doing in preparation for last summer's "David's Red Haired Death". Tony added that working with a single performer does bring some challenges in terms of the exercises you can or cannot do during rehearsals, for instance, with more than one performer, the cast can improvise and "feed off" each other while rehearsing. With this being his first one-(wo)man show, Tony had had to adapt his usual techniques, with the help of the co-director and designer. He added that it took a certain charisma and stage presence for one performer to hold an audience's attention over a period of time, but that Lina was the right person for this. Despite the challenges presented by solo performances, it all comes down to breaking down the text and analysing the character's intentions.
Annual showcase play
Despite the disruption caused by the pandemic, the BGT annual showcase project has proven successful since its launch in 2019. Tony noted that it had attracted new talent and helped those involved in the project to progress in their theatre-related studies and careers.
Lina recently finished her degree in Drama and Sociology at Ludwig Maximilian University of Munich and is now applying for drama school in the United Kingdom (UK). She is also looking for an internship this summer. Similarly, Laura is applying to study a foundation year in Art and Design in the UK following her secondary school studies and later hopes to study Theatre and Design there. The established reputation of British drama schools and the fact that degrees from the UK are widely accepted contributed to Lina and Laura's desire to further pursue their education there. Co-director Ferelith will hopefully be starting her Master in Theatre Directing in Dublin this autumn.
Ticketing
Seating is limited for "The Road to Huntsville" and tickets are already selling fast. Tickets cost €15 for adults and €9 for students. Reservations can be made online at:
www.neimenster.lu
or via tel.: 262-052444.