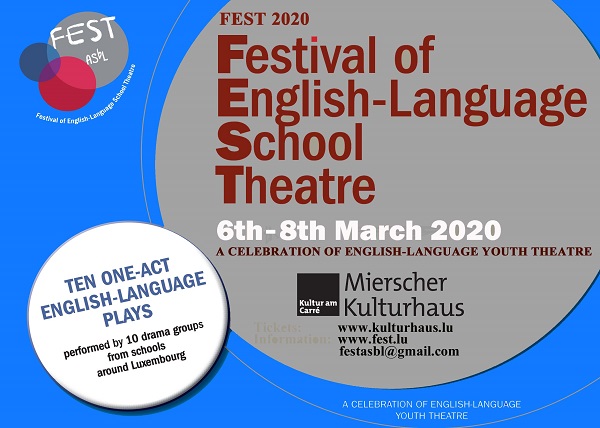 The second edition of the Festival of English-Language School Theatre (FEST) in Luxembourg, organised by FEST asbl, will be taking place from 6 to 8 March 2020 at the Mierscher Kulturhaus in Mersch.
With English becoming an increasing important international language of communication and business, several secondary schools in Luxembourg have in recent years strengthened their standard English classes with English-language theatre options and extra-curricular activities. The first edition of FEST was held in 2018 to celebrate and encourage this development. Its success has resulted in a second edition being held in March this year.
At FEST, English-language theatre groups from nine secondary schools around Luxembourg will perform one-act shows in English over the course of a weekend, offering the public the chance to see the theatrical talent which is being nurtured in Luxembourgish schools. The festival will also give the students the possibility not only to act in English in an established venue, but also to see others of their own age performing and to hear English being spoken by native and non-native speakers alike. Participants will be able to find out how other schools are benefiting from using theatre in their English teaching programmes and to share best practice ideas with other pupils and teachers who are doing similar projects.
FEST 2020 will open at 18:00 on Friday 6 March with a reception for dignitaries and the press, hosted by the British Ambassador to Luxembourg, John Marshall. Attendance is by invitation only.
Programme
Friday 6 March 2020: Block A
19:00-19:45: "Twelfth Night - an adaptation" by Lycée des Arts et Métier. Directors: Jenny Schank, Mike Goergen and Lynn Peters
19:45-20:15: Interval
20:15-21:00: "I Don't Want to Talk about It" by European School Kirchberg. Written by Bradley Hayward. Director: Tony Kingston
21:00-00:00: First night Festival party
Saturday 7 March 2020: Block B
14:00-14:45: "Pink and Blue, Chronicles of a Nearby Future, part I" by Lënster Lycée Junglinster. Devised by the company. Directors: Yann Ketter and Sarah Lippert
14:45-15:14: Interval
15:15-16:00: "Where Loyalties Lie" by St George's International School. Devised by the company (SPLIT CLARITY). Director: Clare Williams
16:00-16:30: Interval
16:30-17:15: "Almost, Maine" by International School of Luxembourg. Written by John Cariani. Directors: Elizabeth Adams and Tiara Partsch
Block C
19:00-19:45: "The Brothers Grimm Spectaculathon" by International School of Differdange & Esch. Written by Don Zolidis. Directors: Nicolas Staentz and Eva Markusdottir
19:45-20:15: Interval
20:15-21:00: "The Grown Up" by St George's International School. Written by Jordan Harrison. Director: Clare Williams
21:00-21:30: Interval
21:30-22:15: "4 A.M" by Lycée classique de Diekirch. Written by Jonathan Dorf. Directors; Isabelle Oberlé and Tony Kingston
Sunday 8 March 2020: Block D
14:00-14:45: "The Unbelievably Amazing, Mesmerising Climate Change Circus" by École Privé Fieldgen. Written and directed by Diana Oliveira Borges and Celine Camara
14:45-15:15: Interval
15:15- 16:00: "Dance Story" by Lycée Michel Rodange. Written by Frank Gibbons. Directors: Elisabeth Heiter and Tony Kingston
The full programme is available on the FEST website: https://www.fest.lu/.
Tickets cost €24 / €12 (students) per block of performances (Block A: Friday 6 March from 19:00; Block B: Saturday 7 March from 14:00; Block C: Saturday 7 March from 19:00; Block D: Sunday 8 March from 14:00). A Festival Pass for all performances costs €60 / €30 (students). Tickets are available from www.luxembourg-ticket.lu.