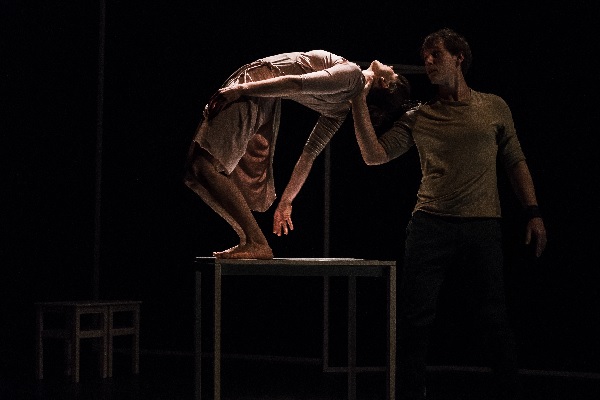 Innocence; Credit: Serge Gutwirth
Belgian circus company, La Scie du Bourgeon, will be putting on performances of their show "Innocence" at the Escher Theater in Esch-sur-Alzette on Saturday 19 October at 19:00 and on Sunday 20 October 2019 at 17:00.
Combining acrobatics, dance, drama and music, La Scie du Bourgeon presents a dialogue about the passing of time, a succession of scenes where emotion counts as much if not more than technical prowess.
The company commented: "We are trying to reinvent our stories, our languages ​​through our circus technique. Dialogues, confrontations, divergences of opinion settle down to tell what questions us: our changes, our future, our old age. How to follow the course of things, the time that passes, how to reinvent it every day and give it vitality?"
In addition to the two public performances, two school sessions are scheduled for Thursday 17 October and Friday 18 October at 10:00.
On 19 October from 10:00 to 12:00, Elsa Bouchez and Philippe Droz from the company will also lead a free workshop dedicated to parents and children who will discover the world of acrobatic stunts. Suitable for children aged 7 and over.
"Innocence" lasts 55 minutes and is suitable for children aged 8 and over.
Tickets for the show cost €16-€20, €9-€12 for under-26s and €4-€4.50 for under-12s. These can be purchased online at theatre.esch.lu, via tel.: 2754-5010 or 2754-5020 or via e-mail: reservation.theatre@villeesch.lu.