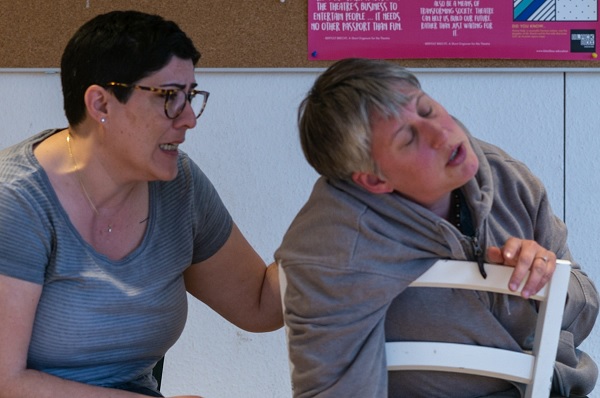 Credit: Geoffrey Grierson
In advance of the New World Theatre Club's (NWTC) production of "The Ripple Effect" this week, Chronicle.lu caught up with joint directors Valerie Scott and Chris Wilson, who revealed some of the planning that has gone on in the run up to Thursday's opening performance.
Speaking of the idea behind the play, Valerie Scott and Chris Wilson explained: "When choosing a one-act play, especially one which will eventually be representing the club at the Feats theatre festival, you tend to look for a story that starts with a bang, as you only have 45 minutes to grab the audience's attention and tell your story. The Ripple Effect fits that bill perfectly, as, not to give too much away, it starts with not one bang, but three!"
The co-directors added: "You always look for something that challenges and entertains your audience in equal measure, and once again the play we have chosen fulfils those requirements. It starts with the main event, and then travels back in time over a five-year period and explores the choices and events in the characters' lives that led to those opening minutes."
Speaking of the challenges of local theatre production, Valerie Scott and Chris Wilson cited "finding a suitable venue" as "one of the most problematic aspects of putting on a play in Luxembourg". They concluded: "We have been very fortunate to secure the use of Altrimenti for our venue, which is the perfect size for a one-act play, an intimate space and central for access for our audience. We are looking forward to sharing all our hard work and effort with audiences in both Luxembourg and Munich."
"The Ripple Effect" is being performed on Thursday 16, Friday 17 and Saturday 18 May at 20:00 at Altrimenti (5 rue Marie-Thérèse, L-2132 Luxembourg). Tickets cost €12 for non-members, €10 for NWTC members and €8 for students. These can be purchased via e-mail: tickets@netc.lu or via tel.: 356-339.
The NWTC will also perform "The Ripple Effect" at FEATS (the Festival of European Anglophone Theatrical Societies) in Munich from Thursday 30 May to Sunday 2 June 2019.