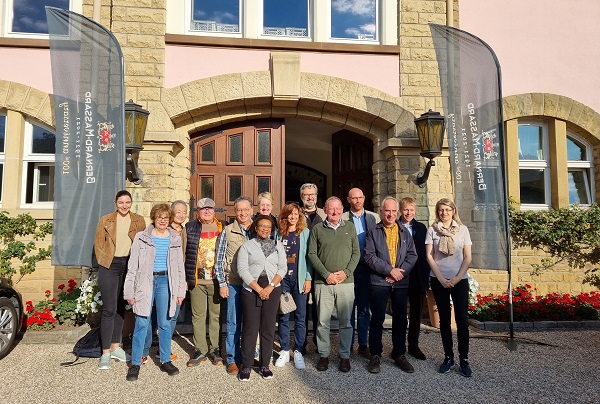 Group photo outside Caves Bernard-Massard in Grevenmacher; Credit: Jazmin Campbell/Chronicle.lu
On Friday 15 September 2023, the Embassy of the Czech Republic in Luxembourg and Bernard-Massard teamed up once again for a "diplomatic grape harvest".
About 20 diplomats and other dignitaries came together for the second edition of this unique event, organised again at the initiative of the Czech Ambassador to Luxembourg, Vladimír Bärtl, in collaboration with the Managing Director of Bernard-Massard, Antoine Clasen. Participants included several other ambassadors to Luxembourg (some of whom had also taken part in last year's diplomatic grape harvest) and representatives of the Ministry of Foreign and European Affairs, as well as the President of the Chamber of Deputies (Luxembourg's parliament), Fernand Etgen, and the Head of the Representation of the European Commission in Luxembourg, Anne Calteux.
Following breakfast and refreshments at Caves Bernard-Massard in Grevenmacher on Friday morning, the group departed for one of Bernard-Massard's vineyards in Wormeldange, where they would pick Rivaner grapes. The sunny weather made this a particularly pleasant team-building experience, although it was clear that some of the grapes had suffered from the too wet and too hot weather of recent months.
Speaking to Chronicle.lu about the decision to launch and renew this diplomatic grape harvest initiative, Czech Ambassador Vladimír Bärtl explained: "Last year, during the Czech Presidency of the EU Council, the idea was born to organise an informal meeting of Heads of Mission, bringing together both resident and non-resident ambassadors, as well as representatives of candidate and like-minded non-European countries."
"Wine from the Moselle region is an iconic Luxembourg product, so a vintage event there would be a truly typical regional activity where we could meet and collaborate in a different way from meetings or receptions," he continued. "As the idea was met with a huge response among colleagues, Antoine Clasen and I decided to make it a tradition; so this was the second edition of the vintage where the diplomatic corps, the parliament, the foreign ministry and the European Commission delegation in Luxembourg showed how we can work not only on geopolitical issues but also with our hands - and with the prospect of tasty results..."
The grape harvest season in the Moselle region had begun just a few days earlier and is expected to last about a month this year (a shorter period than the typical six to eight weeks).
In addition to the helping hands of various diplomats and other dignitaries on Friday, the harvest relies on the support of seasonal workers from Luxembourg and neighbouring countries.