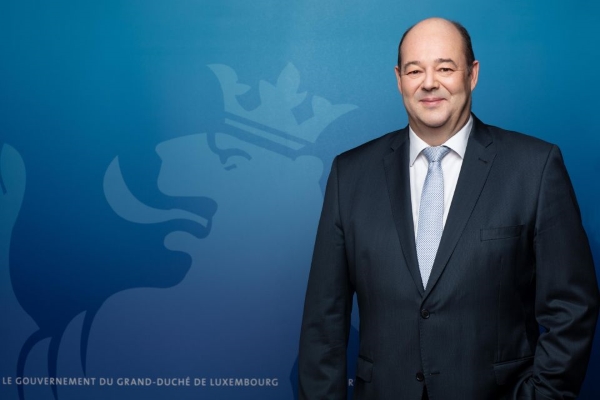 Claude Haagen, Luxembourg's Minister of Agriculture, Viticulture and Rural Development; Credit: SIP / Yves Kortum
On Monday 17 October 2022, Luxembourg's Minister of Agriculture, Viticulture and Rural Development, Claude Haagen, took part in the Agriculture and Fisheries Council in Luxembourg.
European Agriculture Ministers discussed the situation of agricultural markets in the context of the war in Ukraine. Minister Haagen expressed concern about the increasingly severe attacks on civilian and economic targets by Russia and the risks for the solidarity corridors that the European Union (EU) had put in place. The sharp rise in energy and fertiliser prices remains a concern for farmers. While food security does not seem to be in danger in the EU, the increase in food prices is weighing particularly on lower-income households, even if in Luxembourg the government has taken measures to help poorer households.
Minister Haagen recalled the importance of cooperation between institutions such as the World Trade Organization (WTO) and the Food and Agriculture Organization (FAO) of the United Nations, and the maintenance of trade flows in agricultural products. In this context, he stressed that it is essential that the agreements on the export of Ukrainian grain be extended. Minister Haagen also supported for an extension of the temporary framework for State aid with amounts and thresholds adapted to the current situation.
According to the ministry, as far as trade-related agricultural issues are concerned, trade in foodstuffs is important in order to guarantee supplies at EU and global level. Minister Haagen spoke in favour of fair and balanced trade agreements with third countries, which meet the criteria of sustainable development and the degree of ambition of the "Green Deal" so as not to disadvantage Union producers. Minister Haagen also supported the idea of ​​updating studies on the impact of free trade agreements currently being negotiated. In November, Minister Haagen will take part in the OECD meeting of agriculture ministers on the theme "Building sustainable agricultural and food systems in a changing environment: shared challenges, transformative solutions".
The Ministers of Agriculture also resumed discussions on fertilisers based on non-renewable energies. Minister Haagen supported this track and encouraged research in this field.
Finally, the current breeding practices and the killing of young male chicks for lack of economically viable outlets were a last subject of this Council. Minister Haagen recalled that "this practice is not acceptable from an ethical point of view and that it has been prohibited in the Grand Duchy since 2018". The minister is impatiently awaiting the finalisation of an impact study, which would make it possible to ban this practice at EU level, and calls on for a more ambitious revision of the legislation on animal welfare.