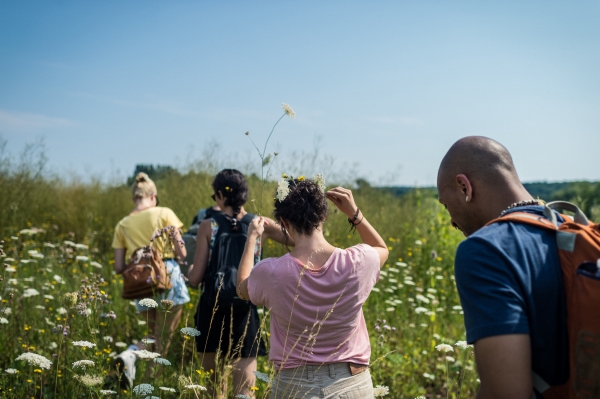 Credit: Visit Moselle Luxembourg / Mike Zenari
On Tuesday 20 September 2022, Luxembourg's Ministry of Agriculture, Viticulture and Rural Development and the General Directorate for Tourism, Visit Moselle - ORT Luxembourg Moselle Region, announced the Ideas Centre (IDDIENSCHMËTT) "Rural Tourism" initiative.
The initiative is aimed at supporting future startups and existing entrepreneurs from the tourism industry and related industries with professional and free coaching in developing and realising adventure offers for the rural area in Luxembourg.
The LEADER initiative thus offers the opportunity for an innovation boost in the rural tourism sector in the wake of the corona pandemic.
New prospects for rural areas
A coording to the ministry, a new longing for vacation in the country is becoming increasingly popular. Ultimately, this change in demand also gives rural areas in Luxembourg new prospects for the future. With the development of new regional, networked leisure and tourism offers, rural regions and villages can take advantage of the increased demand and with the implementation of innovative ideas, increase the quality of life and stay for residents and visitors, and ultimately also the added value in the places.
This is where the Ideas Centre concept of "rural tourism" comes in. In a multi-stage coaching process, tourism ideas are to be brought to life and their development supported. A team of experienced tourism experts will be ready to professionally support applicants in developing their business and project ideas. A special incentive includes the integrated jury competition for a total of three exclusive marketing packages from Visit Luxembourg.
Online information event in October
A non-binding online information event will take place on 4 October 2022 at 19:00 to which all interested parties can find out more about this initiative, its goals and the specific process flow. At the beginning of December, the application period ends for everyone who would like to take part in the Ideas Centre. The creative idea work extends from January to March 2023 with idea, product and marketing workshops, which are offered in the form of online and face-to-face events.
There are no limits to creativity in rural tourism
The offer is aimed at actors with or without a tourism background, both individuals and companies or organisations with a common project idea. Farmers and producers of regional products who are interested in expanding their existing main business with a tourism component and thus bringing guests closer to life, work, handicrafts and enjoyment in the countryside are also explicitly addressed.
The organisers of the Ideas Centre "Rural Tourism" can imagine many product ideas. The only premise is that future projects can be implemented as quickly as possible with reasonable effort, i.e. without complex structural measures and with manageable investments.
Support from Ministries of Tourism and Agriculture
The two ministries collectively welcome this initiative. Minister for Small and Medium-Sized Enterprises, Lex Delles, agrees on the potential in the Ideas Centre "rural tourism" initiative for the development of new, attractive tourist offers that can increase added value in rural areas. Similarly, Minister for Agriculture, Viticulture and Rural Development, Claude Haagen, sees an opportunity for farmers and producers to diversify their existing main business by offering experiences such as "farm holidays" and leisure activities for families and children, and marketing their regional products directly from the field to the guests.
The Ideas Centre initiative as part of the interregional LEADER project "Rural Tourism" is supported and carried by five LEADER regions (Atert-Wark, Éislek, Lëtzebuerg West, Miselerland and Regioun Mëllerdall), four Regional Tourist Offices (Éislek, Guttland, Moselle and Müllerthal ), Luxembourg for Tourism and three national organisations (APTR, Camprilux and Luxembourg Youth Hostels).
Further information on Ideas Centre initiative and access to the information event on 4 October 2022 is available online via: www.iddienschmëtt.lu.