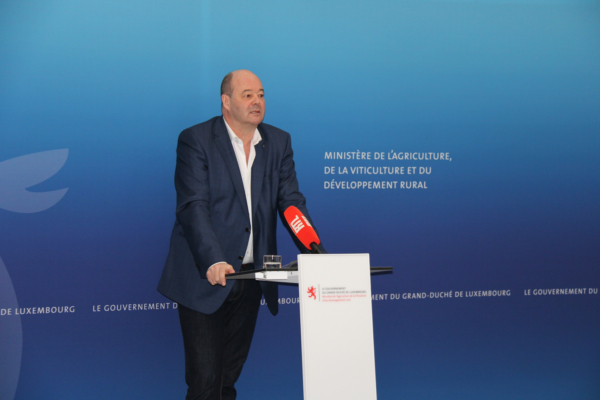 Claude Haagen, Minister of Agriculture, Viticulture and Rural Development; Credit: MA
On Tuesday 22 February 2022, Luxembourg's Minister of Agriculture, Viticulture and Rural Development, Claude Haagen, announced the end of exports of live animals from the Grand Duchy to slaughterhouses located in third countries from 1 March 2022.
This decision, first in Europe, aims to prevent any future transport of animals to non-European Union (non-EU) slaughterhouses, even though only 271 Luxembourg cattles have been exported from the Grand Duchy for slaughter to third countries in last five years (2017-2021).
Claude Haagen said: "the high-quality sustainable agriculture that we are aiming for must aim for the highest standards of animal protection". The new ban is, on the one hand, the consequent continuation of a political priority which places animal welfare at the top of the agenda and on the other hand, meets the expectations of the agricultural sector and citizens concerned about decent living conditions for all animals.
The decision makes the Grand Duchy of Luxembourg a pioneer in Europe in terms of national management of animal transport to non-EU slaughterhouses. It aims to improve the welfare of Luxembourg animals and to unite the other European countries before the deadline of 2023, when the European Commission will revise the Community legislation relating to the transport of live animals. In this context, the final report of the European Parliament's committee of inquiry on the protection of animals during transport also proposes limiting journeys for animals destined for the slaughterhouse and harmonising animal welfare standards. Also, the recent petition from the Luxembourgish rural youth and young farmers association (Lëtzebuerger Landjugend a Jongbaueren, LLJ) asks for a ban on the slaughter of Luxembourg cattles in slaughterhouses not approved to EU standards.
Within the Council of European Ministers of Agriculture, Luxembourg has long been demanding regulations in favor of more ambitious animal welfare and a limitation of the maximum duration of animal transport in Europe.
Within the Council, Minister Haagen intends to request in favour of a harmonised ban on the export of animals to slaughterhouses in third countries.