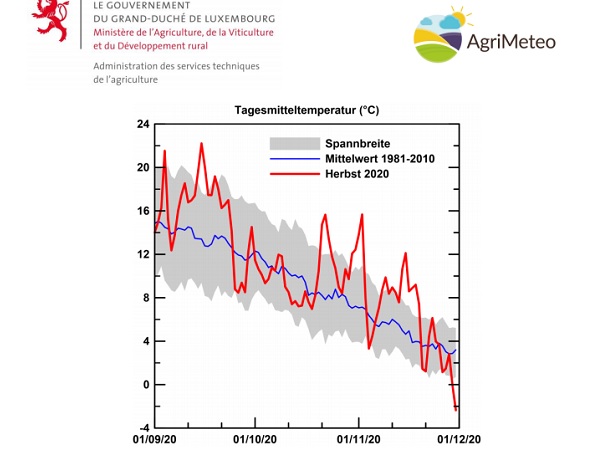 On Tuesday 1 December 2020, Luxembourg's Ministry of Agriculture, Viticulture and Rural Development has reported that the Grand Duchy experienced record temperatures in September and November and a very dry November which allowed optimal grape ripening and good development of the winter grain crop.
The state weather service of the Administration des services techniques de l'agriculture (ASTA) of the Ministry of Agriculture, Viticulture and Rural Development has published its analysis of the weather in Luxembourg between September and November 2020 and the consequences for agriculture and viticulture.
On 15 September 2020, the highest temperature ever recorded in September was measured in Steinsel at 35.2°C, and on 2 November another record temperature of 21.8°C was recorded in Remerschen. With an average increase of +1.3°C, autumn 2020 was the fifth warmest since weather records began in 1838. While the rainfall in September was average and in October was above the values ​​of the reference period, November was very dry across the country. Autumn 2020 was drier across the country than during the reference period.
The weather data comes from the measuring network of 32 automatic weather stations from all regions of Luxembourg. This year's values ​​of the four representative stations in Asselborn (north), Clemency (south-west), Remich (Moselle valley) and Grevenmacher (Moselle valley) were compared with the average values ​​of the reference period 1981-2010.
Consequences for agriculture and viticulture
Due to the high temperatures and the low rainfall in the months of August and September, the corn (maize) harvest took place earlier than usual. The yields and quality of the maize crops varied greatly locally. On a national average, however, the yield losses due to drought amounted to around 30%.
In other arable crops, the effects of the dry weather from the end of summer to the beginning of autumn were still strongly felt. Due to the drought, the sown rapeseed stocks are in a poor condition. Part of the rapeseed area was therefore ploughed early and sown with winter grain.
The autumn weather, on the other hand, had a positive effect on the development of winter cereal stocks which are doing well towards the end of autumn.
As for grasslands, they have finally been able to recover from the rainy season in October, and in many parts of the country one last cut was made at the end of October / beginning of November. However, the yield losses of the previous cuts can usually not be compensated.
The situation for viticulture has been mixed. The warm weather in August and September resulted in optimal ripening of grapes. The drought prevented the development of quality-reducing fungal diseases such as botrytis, but led to drought stress in young vines.