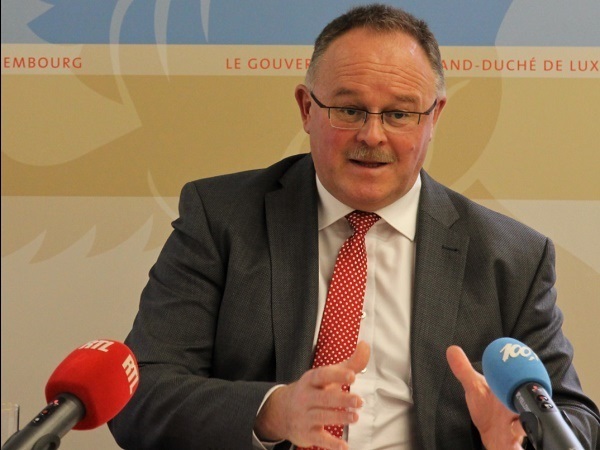 Luxembourg's Minister of Agriculture, Viticulture and Rural Development, Romain Schneider; Credit: MSS
On Friday 22 May 2020, Luxembourg's Minister of Agriculture, Viticulture and Rural Development, Romain Schneider, met with representatives of the wine sector to review the current situation of winegrowers in the Luxembourg-Moselle region.
Like farmers in the agriculture sector, winegrowers have been able to continue to carry out all their seasonal work and Minister Schneider was delighted to hear that vines under ideal weather conditions are growing wonderfully. Despite the positive anticipation of winegrowers in respect of this year's vintage, the current COVID-19 pandemic situation nevertheless is forcing them to face difficulties in the future.
The closure of the HORESCA sector and the cancellation of a large number of sales and tasting events had a major impact on the distribution of Luxembourg wines and crémants. Knowing that Luxembourg wines and crémants are part of the country's cultural heritage, Minister Schneider congratulated the winegrowers for their expertise and creativity for having put in place innovative and digital initiatives to counter at least part of the losses caused by the COVID-19 pandemic.
during the meeting, Minister Schneider invited the wine sector representatives to make a detailed assessment of the period March-April-May 2020 and to compare it with the same period of the previous year in order to be able to determine precisely the decline in the volume of business affected by the crisis.
On the basis of these figures, avenues to compensate for this loss will be studied and presented to the cabinet of the Government. One of the avenues discussed with the sector could be to advance a certain number of bonuses due in 2020 in order to guarantee the liquidity necessary for the proper functioning of companies in the wine sector.
The Minister also specified in this context that after the financial stabilisation aid put in place by the government, the package of "Neistart Lëtzebuerg" measures will help revitalise the economy and will therefore have beneficial effects for the sector.