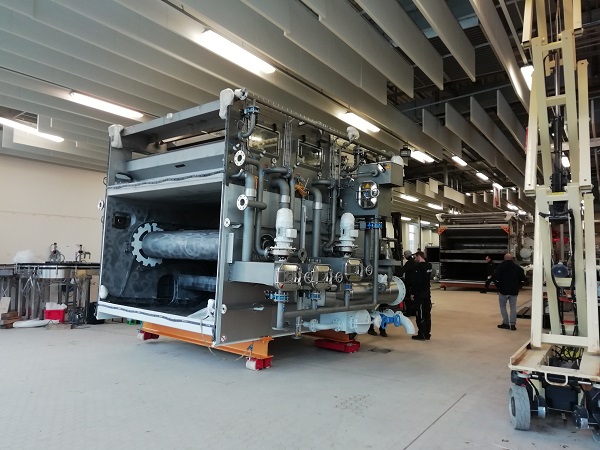 Credit: Brasserie Nationale
Luxembourg's Brasserie Nationale, also known as the Bofferding Brewery, today announced that it has just begun major work on its site in Bascharage.
As part of the development of its activities, its future projects for 2020 and its status as a pioneer in terms of sustainable development, the Brasserie Nationale S.A. Group has just started major work on its site in Bascharage. Among these facilities, the Brewery has notably invested in a new bottle washing machine and a new bottling machine.
The new bottle washing machine has a capacity of 30,000 bottles per hour. This colossal installation required two exceptional convoys of fifteen tonnes each, as well as another additional exceptional convoy of seventeen tonnes. Its introduction forms part of attempts to show greater respect towards the environment: with rinsing being more effective, there is less detergent in the soda of the washer and it is possible to wash at lower temperatures, thus representing considerable energy gains.
The installation of the new bottling machine, with a capacity of 27,500 bottles per hour, required two exceptional convoys of four and seven and a half tonnes respectively, as well as two other additional standard convoys. Energy savings are also expected to be significant, because the bottles are pre-rinsed beforehand (racking possible without having to go through the washer). This approach will allow the following energy savings: 1,500 m3 in water, 25,000 nm3 in gas and 55,000 KWh in electricity.
In total, more than 70 tonnes of equipment were delivered to the Brewery, for a total investment of around €4.3 million.