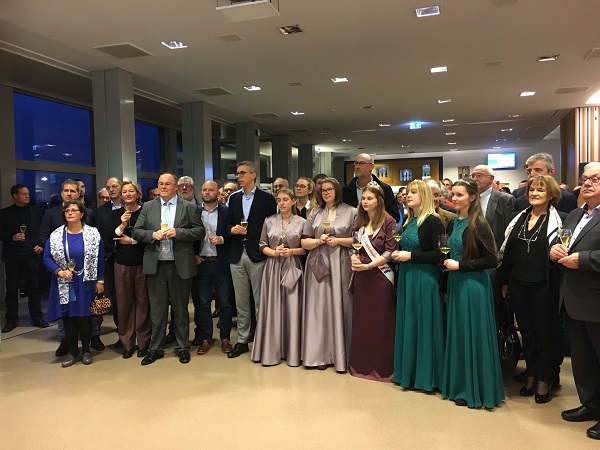 New Year reception of the Institut Viti-Vinicole in Remich; Credit: MA
During the traditional New Year reception of the Institut Viti-Vinicole in Remich, held on Monday, Luxembourg's Minister of Agriculture, Viticulture and Rural Development, Romain Schneider, reflected on the past year for viticulture as well as its future as part of the Luxembourg government programme.
During his speech, Romain Schneider congratulated all the winegrowers as well as partners of the Institut Viti-Vinicole for their work in the service of high-quality and increasingly eco-responsible Luxembourgish viticulture.
Luxembourg's Viticulture Minister stated: "I am proud of our Luxembourgish wines and crémants which are excellent and which have been rewarded at several renowned international competitions in 2019. In Luxembourg, the Fête des Vins et Crémants in November also met with great success. Our wines and crémants will also be displayed in the pavilion of the Grand Duchy during the Universal Exhibition 2020 in Dubai". He added that such exposure contributed to the significant "international promotion" of Luxembourgish viticulture.
Looking back at the past year, Minister Schneider recalled that 2019 was a mixed year for viticulture whose performance suffered due to unstable weather conditions. With regard to innovative production methods, the minister especially welcomed the success of the research programmes of the new laboratory of the Institut Viti-Vinicole and the introduction of new resistant vines, which have proven their worth, such as those of Cabernet blanc. In addition, he recalled that Luxembourg's vineyards are cultivated without the use of insecticides and thus, organic viticulture should be able to conquer new market segments.
Regarding the year ahead, Romain Schneider stressed the importance of viticulture in the government programme. This year, the use of the national brand image of the AOP Luxembourg Moselle ("Appellation d'Origine Protégée – Moselle Luxembourgeoise", ie protected designation of origin), will become compulsory for every bottle placed on the market. The homogenised AOP branding is considered to be both a vector of the national brand image and will act as a distinctive and recognisable sign of a controlled quality label.
Minister Schneider also announced the introduction of more transparent labelling of the ingredients of each bottle via a QR code, foreseen for the end of the year. He explained: "Today's informed consumer is demanding; he/she drinks less, but demands impeccable quality and total transparency. Labelling via QR code goes in this direction".
On the regulatory side, a new bill has been tabled to make the working hours and working conditions of winemakers and farmers more flexible, especially during intensive work periods such as the harvest and grape harvest seasons.
The minister concluded by recalling that the Institut Viti-Vinicole will strengthen its research and innovation activities and act as a centre of competence for quality viticulture.