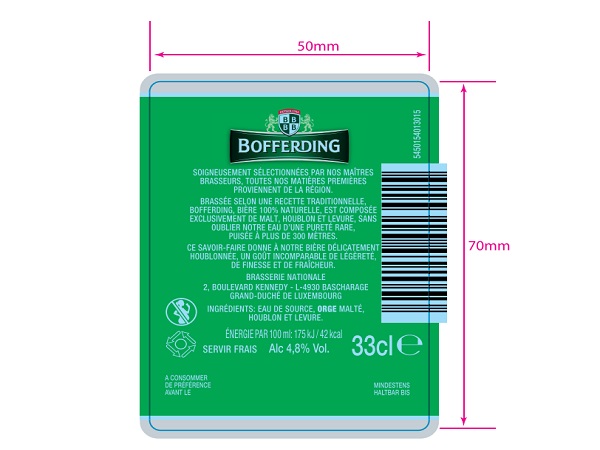 Bofferding label; Credit: Brasserie Nationale
Luxembourg's Brasserie Nationale, also known as the Bofferding Brewery, has announced the signature of an agreement with the Brewers of Europe association, committing to the transparency of packaging.
On Thursday 5 September 2019, the association of European Brewers and its members, including the Bofferding Brewery, signed a voluntary agreement, committing to mentioning the ingredients and the energy value of their products on all packaging (bottle labels, cans, packs) by 2022.
Although beverages with an alcohol content exceeding 1.2% are not legally obliged to indicate this information according to European standards, these brewers have voluntarily taken the initiative to mention the energy value and ingredients of their beer in accordance with EU Regulation No. 1169/2011. Today, 60% of beer producers mention calories, while 80% indicate ingredients; in fact, all beers produced by the Brasserie Nationale S.A. group have been doing so for years.
The main purpose of this voluntary agreement, according to the Brewers of Europe, is to encourage brewers to take responsibility, clearly indicating the ingredients and calories on their packaging, in order to provide consumers with sufficient clear and accurate information. With 37 signatories, the brewing sector has become the first industry in Europe to sign a "voluntary agreement".
Bofferding Brewery CEO, Frédéric de Radiguès, commented: "Our beers are 100% natural, we attach a primary importance to the fact of informing our consumers by the energy value of our products, as well as the four ingredients we use in brewing, namely water, hops, malt and yeast".