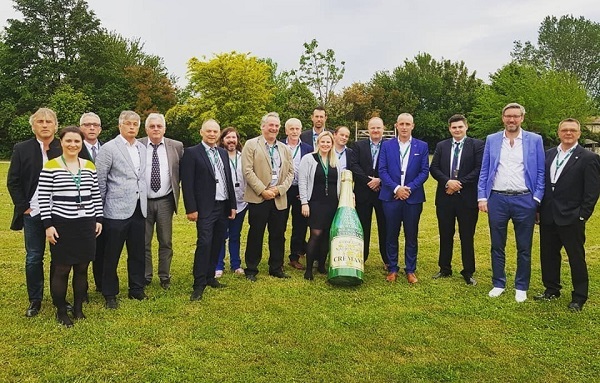 Luxembourg delegation; Credit: MA/IVV
Luxembourgish crémants have won a total of 21 gold medals at the National Crémant Competition of France and Luxembourg which was held in southeast France on Friday 24 May 2019.
The awards ceremony of the 28th edition of the National Crémant Competition of France and Luxembourg took place last Friday in Die in the Drôme department of France.
The Luxembourg Moselle is the only wine region with the right to present its samples to this competition, in addition to the regions of Alsace, Burgundy, Bordeaux, Limoux, Loire, Die, Jura and Savoie. Once again, Luxembourg winegrowers have shown that their products should no longer hide behind the competition. At more than 40 tables, the crémants were tasted blindly by different representatives of the wine regions in four sub-categories (Blanc Brut, Blanc Brut Millésimé, Rosé Brut, Blanc de Noirs Brut). The tasters of the Luxembourg crémants appreciated the approximately 80 samples presented.
In all, Luxembourg's crémants managed to attract 21 gold and 6 silver medals from the Moselle. The Luxembourg delegation, made up of representatives of the Domaines Vinsmoselle cooperative, private winegrowers, trade, the press and the wine institute, was delighted with the results of the award ceremony.