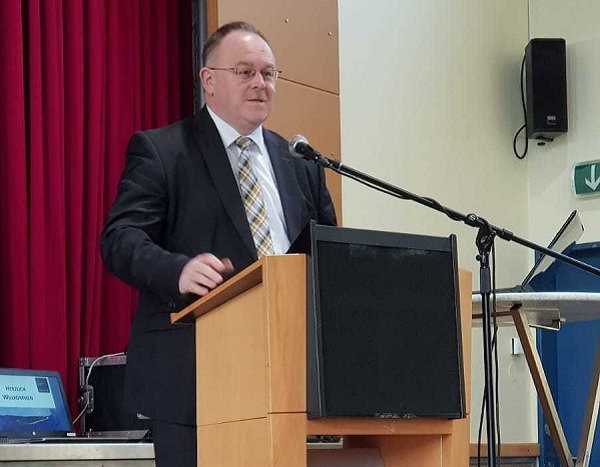 Minister Romain Schneider; Credit: MA
For the 11th time, the "Wënzerverband" organised the Luxembourg wine-growing day in the Centre Culturel of the Riesling community in Wormeldange, in cooperation with the institute viti-vinicole.
The morning was initially devoted to topics of viticulture policy. Luxembourg's Minister of Agriculture, Viticulture and Rural Development, Romain Schneider, emphasised in his speech that the government supported the wine sector. Environmental protection, climate change and digitisation are high on the list of priorities. In this context, Minister Schneider welcomed the fact that the profession is open to this development. In his speech, he highlighted a research project in the field of digitalisation, which will enable the early detection of diseases in viticulture with the help of drones.
For the Minister, this day also has a special significance in terms of knowledge and experience transfer, as it provides a unique platform where scientists and winegrowers can exchange about theory and practice.
Furthermore, Minister Schneider pointed to the planned construction of the "Center Mosellan" as well as measures to promote tourism on the Luxembourg Moselle.
Afterwards, lectures were held on current oenological, viticultural and environmental issues. Experts from consulting, industry and research from Germany and abroad were invited as speakers.
The focus this year was on climate change, in addition to the digitization already mentioned. The development of the grapevines is determined in particular by the climatic conditions. Wine quality and yield are extremely dependent on precipitation and temperature variations, so changing the climate poses a major challenge for growers, requiring possible adaptation strategies.
Furthermore, the winegrowers were able to taste the influence of viticultural and oenological measures on the grape varieties Sauvignon Blanc and Cabernet Blanc themselves at a thematic tasting.
Around 150 winegrowers used the Winegrowing Day to exchange ideas with colleagues, to train themselves and to visit the exhibition that was part of the Winegrowing Day, during which various companies presented their products, services and machines. From the Luxembourg wine industry, the wine-growing day is an indispensable part of this and it is already clear that the Center culturel in Wormeldange will once again be the meeting place for wine on the first Wednesday in February 2020.