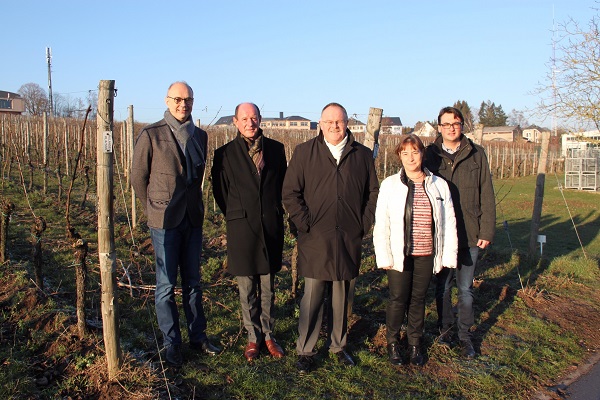 (L-R): André Loos (MA), Robert Ley (Directeur IVV), Romain Schneider (Ministre de la Viticulture), Christiane Blum (IVV) Serge Fischer (IVV); Credit: MA
On Monday 21 January 2019, Luxembourg's Minister of Agriculture, Rural Viticulture and Development, Romain Schneider, visited the facilities of the Institut Viti-Vinicole in Remich and assisted in the traditional New Year's reception.
Minister Schneider thanked the collaborators of the Institut Viti-Vinicole, as well as the wine makers for their excellent work in Luxembourgish viticulture.
The Minister reiterated the importance of viticulture in the programme of government. The promotion of the new AOP Moselle Luxembourgeoise will be further enhanced by a marketing strategy. Linking with tourism, Minister Schneider mentioned the future Centre of Moselle Tourism and viticulture in Ehnen, the renovation of stone vineyard walls and the upkeep of the beautiful wine industry villages. The wine sector will also benefit from administrative simplification and digitalisation measures.
In regard to the methods of production, the minister addressed the use of insecticides and announced that he plans for Luxembourg to become the first country to ban the use of insecticides across its entire wine industry, to respect the environment.
The Institut Viti-Vinicole Institute will shortly get a new laboratory to support the country's wine sector.