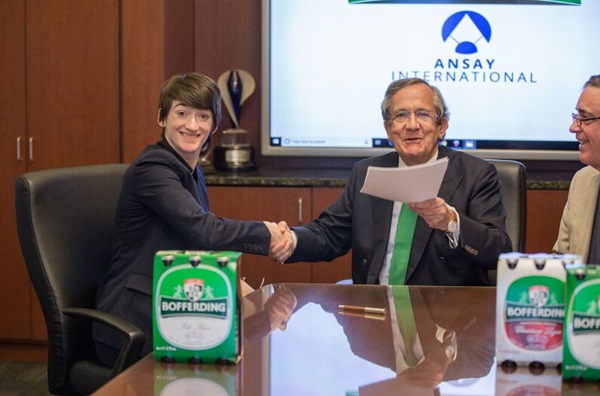 The National Brewery (Brasserie Nationale) last month signed a new collaboration agreement with Ansay International for the exclusive distribution of Luxembourg beet, wine and cider in the US.
For more than 10 years, Ansay International has represented exclusively the Bofferding beers of the Brasserie Nationale in the United States. In addition, Ansay Int. imports and distributes the wines of the Luxembourg Moselle, Ramborn ciders and Luxembourg mustard. These products are distributed in the North West, namely the states of Wisconsin, Iowa, Minnesota, Ohio and the Chicago area.
Ansay International is a family business owned by the Ansay family in Port Washington, Wisconsin, where the Luxembourg tradition is still alive: every year, the inhabitants of this village celebrate Luxembourg Fest in August. The business is also active in the banking sector and currently manages one of the largest insurance portfolios in the region since 1946. Under the leadership of Mike Ansay and his daughter Kate, Ansay Int. has developed imports of products from Luxembourg companies.
On 21 November 2018, during a reception, Kate Ansay and Georges M. Lentz, Jr. Managing Director of the National Brewery, signed, in the presence of Mike Ansay, the new exclusive distribution contract. The objectives are ambitious: triple sales to reach 5,000 hl by 2020.