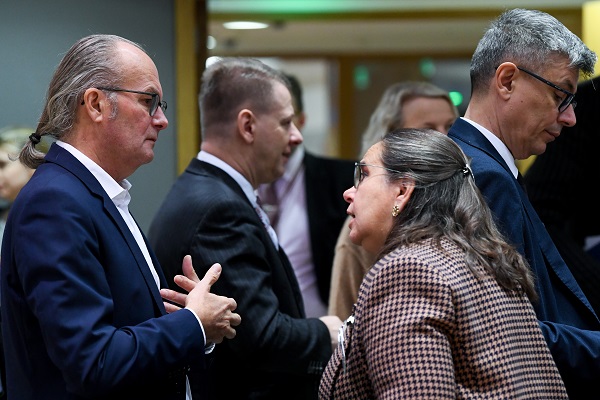 (Left) Claude Turmes, Luxembourg's Minister for Energy; Credit: European Union
On Thursday 24 November 2022, Luxembourg's Minister for Energy, Claude Turmes, participated in the extraordinary meeting of the Council of European Union (EU) Energy Ministers in Brussels.
Minister Turmes welcomed the fact that the Council reached an agreement on the texts of two regulations on emergency measures to deal with high energy prices. Formal adoption is expected at a forthcoming meeting of the Council of Energy Ministers.
Firstly, EU energy agreed on the text of a Council regulation strengthening solidarity through better coordination of gas purchases and cross-border gas exchanges. Minister Turmes noted: "This regulation will strengthen solidarity and coordination, in particular through the establishment of a joint purchasing platform. Luxembourg is ready to play its full part in this mechanism".
Secondly, the ministers reached an agreement on the text of an emergency regulation establishing a temporary framework to accelerate the deployment of renewable energy. The objective of this proposal is to speed up and simplify the authorisation procedures for projects in the field of renewable energies. As Minister Turmes explained, "this text concerns a large number of players, so I'm going to start by bringing them around the table to work together to facilitate procedures. This is essential in the current context of energy crisis, but also climate [crisis]".
Finally, the EU ministers had a first exchange of views on the European Commission's new proposal for an emergency regulation introducing a market correction mechanism to limit the price of gas in situations of extreme volatility. Luxembourg's Minister for Energy stressed that the Grand Duchy is ready to work on the Commission's proposal and specified: "This mechanism should make it possible to maintain gas flows within the EU and guarantee security of supply. The most effective solution remains the reduction of our fossil gas consumption and the acceleration of the energy transition".
In order to speed up discussions on this point, the presidency has just added a meeting of the Council of Energy Ministers on 13 December 2022, in addition to the one scheduled for 19 December 2022.