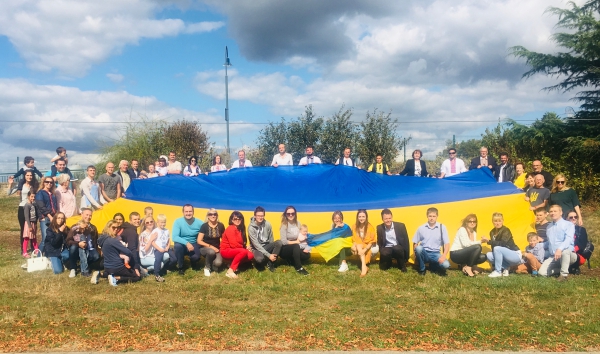 Credit: LUkraine
Ukraine is celebrating its 31st Independence Day today, Wednesday 24 August 2022, a holiday commemorating the anniversary of the Declaration of Independence of 1991 from the Soviet Union.
The Supreme Council of the Ukrainian SSR (Verkhovna Rada of Ukraine) issued the Declaration of State Sovereignty of Ukraine on 16 July 1990, and declared Ukrainian independence on 24 August 1991, three days after the failed coup in Moscow (19 to 21 August 1991). The Act was adopted in an eleven-hour long extraordinary session by with 321 votes in favour, two votes against and six abstentions (out of 360 attendants). The Parliament also voted in favour of creation of a national guard of Ukraine and took over all the armed forces within Ukrainian territory.
The Ukrainian SSR, a founding member of the United Nations (UN), informed the UN Secretary General's office on 26 August 1991, that that the permanent mission would officially be designated as representing Ukraine. The executive committee of Kyiv also voted on that same day to remove all the monuments of Communist heroes from public places, including the Lenin monument in the central October Revolution Square.
In Luxembourg, LUkraine, a local non-profit organisation supporting Ukrainian refugees in Luxembourg and humanitarian efforts in Ukraine, noted that this year the Independence Day celebrations are bitter-sweet for all Ukrainians nationals. Inna Yaremenko, vice-president of LUkraine, elaborated: "Many Ukrainians who are born as citizens of an independent nation have now to fight tooth and claw for that very Independence". Underscoring the ongoing war in Ukraine, she emphasised: "we invite Ukrainians to come together and mark the Independence Day without loud celebrations. We want to make sure everyone feels safe and at home in a community of fellow Ukrainians".
LUkraine asbl is organising an event celebrating the Independence Day of Ukraine on Saturday 27 August 2022, from 15:00 to 20:00, at Hesperange park. Additionally, a photo exhibition by Constantin Sova and Serhii Morugine is being organised by LUkraine from 23 August until 23 September 2022 at 2A Rue Albert Borschette, L-1246, Luxembourg.
Speaking with Chronicle.lu, CEO and co-founder of Ukraine-Luxembourg Business Club asbl (ULBC), Evgenia Paliy, recalled that six months into a war, over fourteen million people had to leave Ukraine and now are war refugees, a staggering number, and still growing by every passing day. She was particularly worried, as cautioned by President Volodymyr Zelenskyy, that today, 24 August 2022, also marks the six months of Moscow's invasion and Russia might do something "particularly cruel" (in terms of war aggression). Nonetheless, "the celebrations of Independence are extremely important this year", she insisted. "We invite you to join the Ukrainian community to celebrate Ukraine's Independence Day, to support Ukrainians in Luxembourg, to commemorate those Ukrainians who became innocent victims of the war of Russian aggression, to show unity and support Ukrainians fighting today for freedom".
The ULBC is organising an event to celebrate the Ukraine's Independence Day today, 24 August, from 18:30 at Come à La Maison, 1 rue Nicolas van Werveke, L-2725 Luxembourg. Guests includes Lviv Virtuosos, representatives of Ukrainian Radio Symphony Orchestra, and Tetiana Liubymenko, vocalist of the Taras Shevchenko National Opera and Ballet Theatre of Ukraine. Entry ticket costs €50, free-of-charge for Ukrainian refugees.
According to the National Registry of Natural Persons, there are 5,056 Ukrainian nationals (including dual or multiple nationality holders) residing in Luxembourg as of 30 June 2022, and in addition 4,293 Ukrainians fleeing the war in Ukraine, were under temporary protection in Luxembourg as of 31 July 2022.