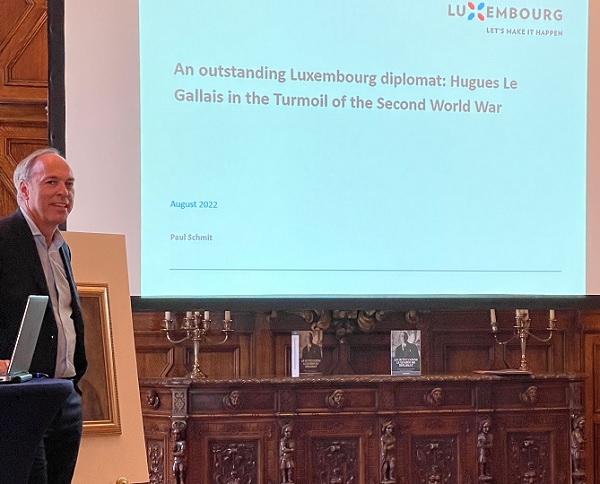 On Tuesday 9 August 2022, friends of Luxembourg and students of history got a rare opportunity to learn about the interesting life of late Ambassador Hugues Le Gallais (1896-1964) who was Head of the Mission in USA during 1940-1958.
H.E. Ambassador Nicole Bintner-Bakshian hosted a reception at the Luxembourg Embassy in Washington DC, as part of cultural exchange and public diplomacy. The evening centred around a book discussion on "An Outstanding Luxembourg Diplomat."
The author Mr. Paul Schmit, who was on a private tour, engaged the audience through a lively discourse on the life and challenges of a pivotal figure in recent Luxembourg history. Through anecdotes, Mr. Schmit narrated the story of the legendary diplomat whose sometimes unorthodox approach helped keep the cause of Luxembourg alive. Mr. Schmit informed the audience about personal connections of Ambassador Le Gallais with important political and business leaders during and after the Second World War.
Through a lively narration, the author of the voluminous book said that Ambassador Le Gallais not only met US Secretary of State, George C. Marshall, but also exchanged notes and gifts. Additionally, Ambassador Le Gallais met with President Franklin D. Roosevelt no less than twelve times – sometimes accompanying the Grand Duchess and at other times alone. Neatly arranged photographs, mounted on easels in the magnificent Embassy room, facilitated the communication of the powerful story.
In describing the interesting life of a pivotal figure, Mr. Schmit provided a glimpse of Ambassador Le Gallais's close friendship with Benjamin Sumner Welles, a major foreign policy advisor to President Roosevelt. In a fluent manner, Mr. Schmit enabled the audience to appreciate the life and times of Ambassador Le Gallais who appeared at the a critical time in Luxembourg's history, survival and triumph over the tribulations of Second World War.
The author also touched on the history of the Embassy building itself and how it was acquired. While covering the historical aspect of the building, the author also illuminated the challenges the Grand Duchy faced – both the struggles of the Grand Ducal family and the existential threats the government encountered – during the dark days of the War.
The evening was another way for the Luxembourg Embassy in Washington to engage with the public and maintain a vibrant connection with the friends of Luxembourg in Washington DC.
A day earlier, the author held a similar discussion on his enlightening book at a private club - for women and men distinguished in science, literature and the arts - across the street from the Luxembourg Embassy. The club is mentioned in the book. The building is known as the Townsend Mansion and was the residence of Under Secretary of State Sumner Welles, with whom Ambassador Les Gallais had a long friendship.