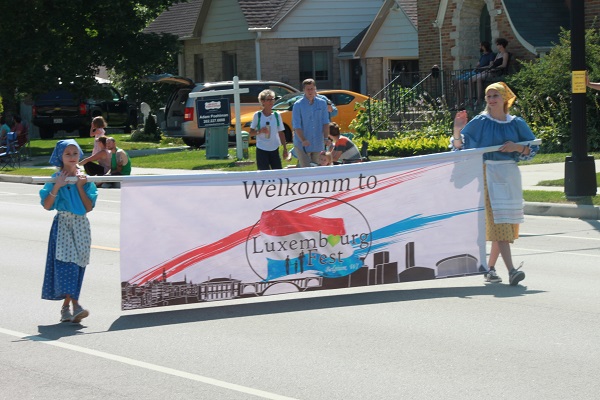 Credit: LACS
The 36th annual Luxembourg Fest of America is kicking off in Belgium, Wisconsin in the United States (US) on Thursday 11 August 2022, with festivities running until Sunday 14 August 2022.
First celebrated in 1986 as "Luxembourg Fest of Belgium", this annual festival honours the unique relationship between a small village in the US state of Wisconsin and a European country: the Grand Duchy of Luxembourg. The festival was created by Luxembourg descendant Bea Krier and a small committee of volunteers. "It originally consisted of an antique tractor parade on Saturday followed by a Catholic Mass on Sunday", explained Tara Williams of the Luxembourg American Cultural Society (LACS).
Since then, the event has drawn many visitors, including those from Luxembourg, each year. Typical highlights include the Main Street parade and the world's largest Träipen-eating contest (Träipen being a Luxembourgish variant of black pudding). The organisers also select a Luxembourgish family to honour and crown a Luxembourg Fest Duke and Duchess each year; last year's Duke and Duchess were Pat and Rhonda Krier. Träipen, Bofferding beer and Luxembourgish wines can be typically found on the menu at this annual festival. There is also a Sunday mass, this year presided over by Cardinal Jean-Claude Hollerich, the Archbishop of Luxembourg. As Tara Williams explained, the organisers host several other events throughout the week, including a Cultural Forum, the theme of which is "The Jewish Experience in Luxembourg", this year and a member meeting at the LACS.
New this year is a Kënschtler Eck (artists' corner), where visitors can take a mini class on stone sculpting led by Luxembourgish immigrant artist Victorine Hinger, who recently completed a sculpture for this year's centennial anniversary of Belgium, Wisconsin. Visitors also have the opportunity to "paint a Luxembourgish plaque to be glazed, have a caricature done of them and shop some Luxembourgish crafts", added Ms Williams. Also on the agenda this year is a new fundraiser called "Luxembourg Under the Stars", where visitors "dine al fresco outside of the LACS on a special Luxembourgish menu created specifically for this event, and sample Luxembourgish wines".
Concerning the impact of the COVID-19 pandemic on the organisation of Luxembourg Fest (and other activities organised by the LACS), Tara Williams noted that LACS had had to cancel the festival in 2020 and held a smaller festival in 2021, without bouncy castles, face painting and other typical activities. There were also no guests visiting from Luxembourg last year due to travel restrictions.
In 2020, on the occasion of Luxembourg's National Day, Luxembourgish pop-folk-country band Zero Point Five played a virtual concert for the LACS, for which the cultural society was "grateful". Tara Williams elaborated: "One silver lining of the pandemic was that we began hosting many virtual programmes throughout the year. This has truly done wonders in bringing our Luxembourg-American community together from throughout the world and provided us fun and interactive ways to learn more about the Luxembourg heritage together".
With the exception of the last two years, Luxembourg Fest typically attracts about 2,000 to 3,000 visitors annually. Ms Williams noted that many visiting Luxembourgers were attending this year's festival, as had been the case in pre-pandemic times. Many of these past visits from the Grand Duchy, which have included Luxembourgers being hosted by locals in Belgium, Wisconsin, have resulted in "lifetime friendships".
Regarding the mission of the LACS, particularly in relation to US-Luxembourg relations, Tara Williams stated: "Maintaining and strengthening relationships between Luxembourg and America are very important to the LACS. We always have Luxembourgish board members and have several Luxembourgish society members as well". Referring to the new US Ambassador to Luxembourg, Thomas "Tom" Barrett, who presented his credentials in February 2022, Ms Williams added: "It was exciting this year to have the former mayor of Milwaukee be selected as the US Ambassador to Luxembourg, as Milwaukee is only about a half hour drive from our centre".
"We make it a priority to educate our members and nation on what it means to be Luxembourgish and to teach them about Luxembourg and its history, culture, news, music and art through events, our Luxembourg American Gazette, e-newsletters, and our museum", said Ms Williams, elaborating on the work of the LACS. "We also have the largest research centre of its kind outside of Luxembourg. The research centre and our services helping people obtain dual citizenship also help connect families to their Luxembourgish roots for generations to come".
In 2011, the newly formed LACS took on a larger role in the planning of Luxembourg Fest, as the relationship between Luxembourg and the small village of Belgium, Wisconsin, continued to strengthen.
Further information about this year's Luxembourg Fest is available at: https://www.lacs.lu/luxembourg-fest-week/