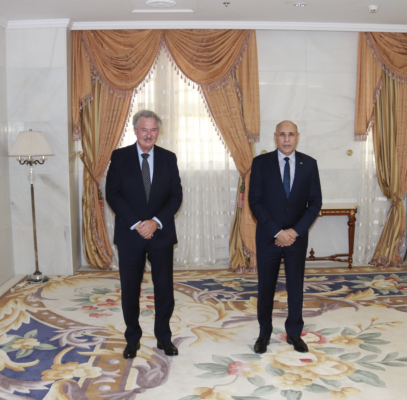 (L-R) Jean Asselborn, Minister of Foreign and European Affairs; Mohamed Ould Ghazouani, President of the Islamic Republic of Mauritania; Credit: MAEE
The Luxembourg Minister of Foreign and European Affairs, Jean Asselborn, paid a working visit to the Islamic Republic of Mauritania from 17 to 20 January 2022.
In Nouakchott, Minister Asselborn was received in audience by the President of the Islamic Republic of Mauritania, Mohamed Ould Ghazouani. Discussions focused on the situation in the Sahel in general and more specifically on recent developments in Mali. The situation in Yemen and the Occupied Palestinian Territories were also discussed.
Faced with the lack of tangible progress in the preparation of elections and a return to constitutional order, the Economic Community of West African States (ECOWAS) decided on 9 January 2022 to impose sanctions on Mali. Mauritania, which is not part of the sub-regional organisation, plays an important mediating role as a neighboring state to Mali and a member of the G5 Sahel. At the end of the discussions with Minister Asselborn, President Ghazouani also received a large Malian delegation to discuss the latest developments in Mali.
Minister Asselborn praised the constructive role played by Mauritania in this context and expressed the hope that the Malian transitional authorities would review their proposed timetable, judging that the five-year transition period planned by the Malian authorities was not acceptable.
Minister Asselborn also addressed the presence on Malian territory of the Wagner group, which is a source of concern for Mali's European partners. He felt that the deployment of mercenaries only increased the country's instability.
Additionally, Minister Asselborn welcomed the good bilateral relations between the two countries. He announced on this occasion that Luxembourg intended to request the approval of the Mauritanian authorities for the co-accreditation of His Excellency Georges Ternes as non-resident ambassador. Minister Asselborn inquired about Mauritania's projects in the field of green hydrogen, an energy source expected to play an important role in sustainable development and the fight against climate change.
Subsequently, Minister Asselborn had a bilateral meeting with Minister of Foreign Affairs, Cooperation and Mauritanians Abroad, Ismail Ould Cheikh Ahmed. The working meeting allowed Minister Asselborn to have an exchange of views with his counterpart on the health situation in the region affected by the pandemic. The two men were also able to discuss the security situation in the region. Minister Asselborn particularly wanted to know the feedback from Mauritania as the presidency of the G5 Sahel in 2021.
Finally, Minister Asselborn took the opportunity of his trip to Nouakchott to meet the Executive Secretary of the G5 Sahel, Eric Tiaré, whose offices are located in the Mauritanian capital. The Executive Secretary thanked Luxembourg for its support in the Sahel and outlined the challenges facing the G5 Joint Force in the fight against terrorist groups in the region.