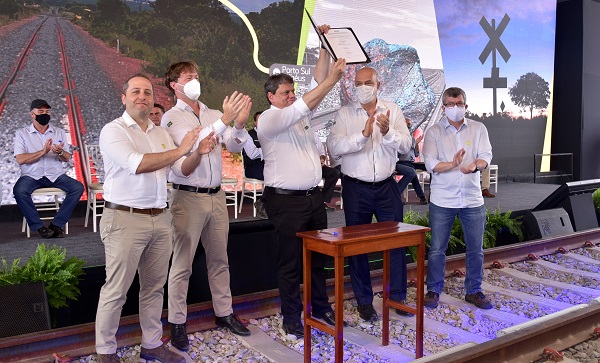 Credit: ERG
Eurasian Resources Group (ERG), a leading diversified natural resources group headquartered in Luxembourg, has signed an agreement to complete and operate a stretch of the FIOL (East-West Integration) railway in Brazil.
ERG and its wholly-owned Brazilian subsidiary BAMIN announced that on 3 September 2021, BAMIN signed a concession agreement with the Brazilian Federal Government to complete and operate a section of the FIOL railway. BAMIN will advance the construction works, which until recently were carried out by the state-owned railway engineering and construction company Valec. The sub-concession has been granted for a 35-year period, which includes an allowance of five years for the construction of the railway and 30 years for its operation. BAMIN's investment into the railroad and the rolling stock will amount to around 3.3 billion Brazilian reais (around $683 million).
The signing ceremony, which was held in Sussuaran, Tangua Municipality, was attended by Brazil's President, Jair Bolsonaro, among others.
In April 2021, BAMIN won the auction on the B3 (São Paulo Stock Exchange) to complete and operate the first 537 km stretch of the FIOL. The concession agreement has now granted BAMIN 120 days to evaluate the progress of the construction and other related works. This preliminary phase precedes the preparation of a plan to resume the construction, which is scheduled for the second half of 2022.
BAMIN has already hired experienced professionals in the rail industry who will oversee the management of the FIOL railway. The subsidiary will also leverage ERG's international expertise as the largest transport operator in Central Asia with extensive experience in rail transportation. Each year, ERG transports over 50 million tonnes of freight using 10,000 vehicles, while also maintaining and repairing 2,500 wagons and over 1,000 locomotives.
Benedikt Sobotka, CEO of ERG, commented: "All across the globe, railways play a crucial role in urban development, enabling people to gain access to new opportunities. In Brazil, we are confident that FIOL will act as an important connecting point between regions, cities and people, contributing to economic growth, and creating a strong link between the west and the east of the country. The logistics and exportation corridor that BAMIN will create will transport millions of tonnes of iron ore, agricultural products, as well as other goods. Having been present in Brazil for the last sixteen years, the Group sees great potential in the country and its people and we are pleased that BAMIN will help realise this potential and create these opportunities for the local population, while creating thousands of new jobs."