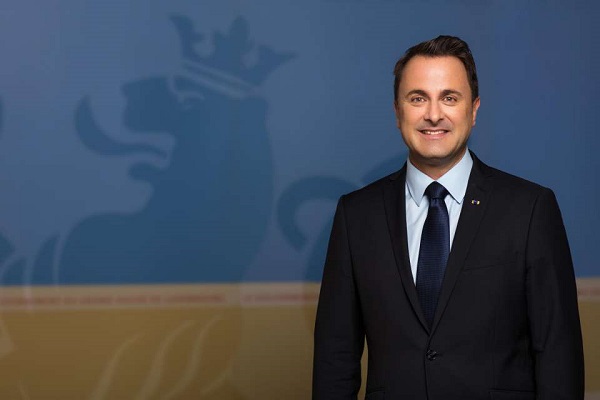 Prime Minister Xavier Bettel; Credit: SIP / Yves Kortum
Luxembourg's Prime Minister Xavier Bettel and the Minister of Finance Pierre Gramegna will be undertaking a state visit to Paris from 31 May to 1 June 2021.
On the agenda are several bilateral meetings between the Luxembourg ministers and their French counterparts, as well as the 2021 Meeting of the OECD Council at Ministerial Level (MCM), chaired by the United States with Korea and Luxembourg as Vice-Chairs.
OECD Council at Ministerial Level
Prime Minister Xavier Bettel and Finance Minister will be participating in the 2021 OECD ministerial meeting on Monday and Tuesday in Paris. The meeting, which is the most important event of the year for the Organisation for Economic Co-operation and Development (OECD), will bring together the Ministers of Finance, Economy, Foreign Affairs and Trade of the organisation's 37 member countries as well as representatives of key partner and candidate countries.
Centred around the theme "Shared Values: Building a Green and Inclusive Future", the meeting will focus on the post-COVID-19 period, a sustainable and inclusive transition and the appointment of a new OECD Secretary-General: Mathias Cormann will take over from Angel Gurria, who served as Secretary-General for fifteen years. Luxembourg's Prime Minister will chair this handover ceremony.
Bilateral meetings
Another important element on the Prime Minister's agenda will be Franco-Luxembourg coordination in the fight against COVID-19, particularly with regard to COVID digital certificates. Prime Minister Xavier Bettel will meet with French Secretary of State for the Digital Transition and Electronic Communication, Cédric O, as well as Prime Minister Jean Castex, with whom he will also discuss cross-border cooperation and bilateral relations between France and Luxembourg.
Luxembourg's Prime Minister will also take this opportunity to visit the Biermans-Lapôtre Foundation, home of Belgian and Luxembourg students at the Cité Internationale Universitaire de Paris, which has hosted more than 500 students, researchers and professors from all walks of life every year since 1926. He will also meet with Luxembourg students and present an award to Diane Miller, outgoing director of the foundation.
Similarly, Finance Minister Pierre Gramegna will meet with French Minister of the Economy, Finance and Recovery, Bruno Le Maire, and the Director of the OECD Center for Tax Policy and Administration, Pascal Saint-Amans. During these bilateral meetings, the Luxembourg and French ministers will discuss various subjects such as the latest developments in the field of international taxation and issues related to European news.