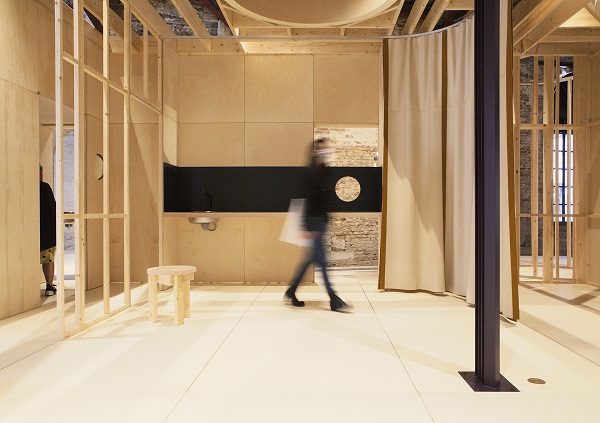 Credit: LUCA / Holic Studio
On Saturday 22 May 2021, the Luxembourg Pavilion at the 17th Venice Biennale of Architecture (Biennale Architettura) opened to the public.
Set up for the second time at the Arsenale's Sale d'Armi, the Luxembourg Pavilion will host until 21 November 2021 an exhibition entitled "Homes for Luxembourg" as well as a residency programme and a series of events organised in Luxembourg and Venice.
Luxembourg's Ministry of Culture and LUCA - Luxembourg Center for Architecture, in collaboration with the network of National Pavilions, plan to organise a joint weekend of vernissages in Venice this autumn, when it is possible to travel safely again. As in previous years, LUCA was charged by the commissioner, the Ministry of Culture, to act as the curator and organiser of the Luxembourg Pavilion.
Initially planned to open in May 2020 and postponed twice, the 17th Biennale Architettura, entitled "How will we live together?", is curated by Lebanese architect Hashim
Sarkis and organised by La Biennale di Venezia and its new president Roberto Cicutto.
Homes for Luxembourg
Referring to the official motto of this year's Biennale Architettura, Luxembourg's contribution to the 17th edition comes with an exhibition that reflects on the dualities of architecture and land, urban and rural, interior and exterior, home and work / study, built environment and nature, among others. The modular installation in the Sale d'Armi (designed by the delegated curator Sara Noel Costa de Araujo from Studio SNCDA on behalf of LUCA) and several contributions to the architecture magazine "Accattone" explore ways of reversible living, offering a vision for a model of repurposing land as new urban commons, providing new forms of togetherness. The contributors to this publica tion come from diverse disciplines, and include architects, artists, authors, urban planners, photographers, designers, engineers, curators, researchers, ecologists, developers and lawyers.
As the second central element of the Pavilion, LUCA initiated and set up Luxembourg's first-ever curatorial residency programme at La Biennale di Venezia. Emerging curators, mediators, scenographers, authors, bloggers and activists in the field of architecture have the possibility to explore this year's Biennale Architettura, get a first-hand overview of the current state of international discourse, gain a deeper understanding of the challenges and opportunities of contributing to the world's most important architecture exhibition, enhance their professional abilities and establish important contacts and develop ideas for own projects. The Emerging Talent Programme will be launched as soon as sanitary conditions permit it.
A series of cultural events, curated and organised by LUCA both in Venice and Luxembourg from May to November, and an evolutive website will allow anyone, wherever they are, to follow and take part in the life of the Luxembourg Pavilion.