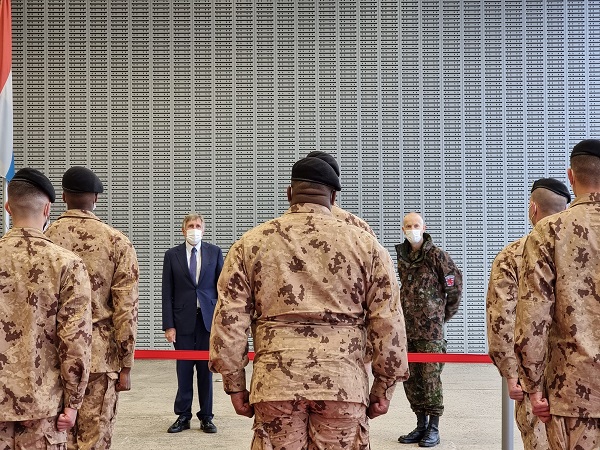 Luxembourg troops departing for Mali; (L-R): François Bausch, Minister of Defence; General Steve Thull, Army Chief of Staff; Credit: © Armée luxembourgeoise
On Saturday 15 May 2021, a 20-strong contingent of troops from Luxembourg's army embarked on a flight to Mali.
The contingent boarded an A330 MRTT aircraft belonging to the Multinational MRTT Unit (MMU), of which Luxembourg has been a member since 2016. This was the first operational flight of an MRTT aircraft for the benefit of Luxembourg Defence. The Netherlands, Germany, Norway, Belgium and the Czech Republic are also members of MMU.

At the airport, Luxembourg's Deputy Prime Minister and Minister of Defence, François Bausch, attended the troops' departure for Mali where they will be will be deployed to the EUTM MALI peace-keeping force.
The EUTM MALI 2021-02 contingent is being deployed to Mali for a period of approximately four months. The contingent is made up of one officer, three non-commissioned officers, three corporals and 13 volunteer soldiers. He will join the Force Protection Group in the Koulikoro camp in Mali.