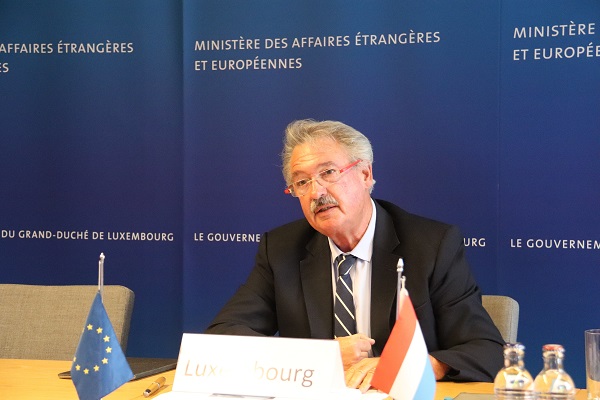 Jean Asselborn, Luxembourg's Minister of Foreign and European Affairs; Credit: MAEE
Luxembourg's Minister of Foreign and European Affairs, Jean Asselborn, participated in the meeting of the EU Justice and Home Affairs (JHA) Council, which was held by video conference on Thursday 8 October 2020.
The meeting served as an opportunity for rhe ministers responsible for migration issues to have a first discussion and exchange of views on the new pact on migration and asylum, presented by the European Commission on 23 September 2020.
The German Presidency introduced the meeting by insisting on the need to combine humanity and the maintenance of order in the management of migratory flows. The Commission, which presented the pact at the start of the meeting, emphasised that it presents a panoply of homogeneous and coherent measures, such as compulsory filtering, external aspects, border procedures, the European return system and compulsory solidarity. The Commission also recalled that the EU cannot fail to find a better balance between responsibility and solidarity and that it is not acceptable to leave Member States which find themselves under pressure alone.
The EU ministers then exchanged views on the content of the pact as well as on the way forward. Luxembourg's Foreign Minister Jean Asselborn began his intervention by affirming that the pact represents a basis for future negotiations: "In the coming months, we must assume our responsibilities and agree on a common European migration policy worthy of the name". He added that: "in the absence of an agreement on fundamental reforms, the images that have reached us from Moria will risk being reproduced in other Member States at the external borders of the European Union".
Minister Jean Asselborn warned against the concept of "flexible solidarity", in that it could lead to a situation where always the same Member States welcome people seeking international protection. He remarked: "In the long term, such a situation is not sustainable". The minister insisted on the need for the Commission to introduce the possibility of compulsory relocation if sufficient commitment is lacking.
Luxembourg's Foreign Minister concluded by speaking out against the criminalisation of rescue operations at sea: "I welcome the Commission's proposal which consists in saying: no criminalisation of non-governmental organisations (NGOs), responsibility of the Member States and a mechanism of permanent distribution. Only in this way can we ensure that people in distress are treated with dignity".