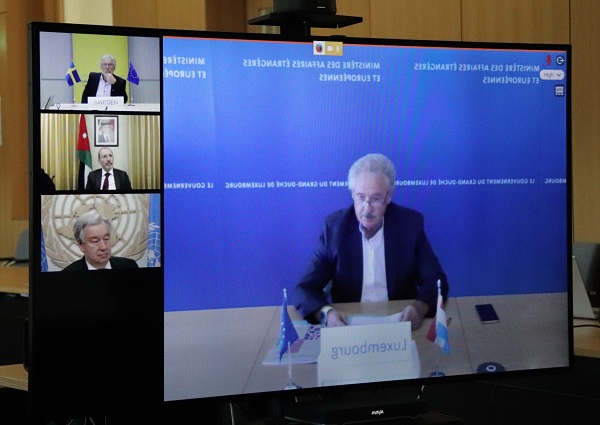 Jean Asselborn, Luxembourg's Minister of Foreign and European Affairs; Credit: MAEE
On Tuesday, Luxembourg reaffirmed its support for the United Nations Relief and Works Agency for Palestine Refugees in the Near East (UNRWA).
At the invitation of Jordan's Minister of Foreign Affairs Ayman Safadi and Sweden's Minister for International Development Cooperation Peter Eriksson, Luxembourg's Minister of Foreign and European Affairs, Jean Asselborn, participated in the UNRWA international donors videoconference held on Tuesday 23 June 2020.
The objective of this ministerial conference, entitled "A strong UNRWA in a challenging world - Mobilising collective action", was to mobilise the political and financial support of member states for UNRWA. This UN agency is in charge of helping Palestinian refugees; its aim is to meet the basic needs of Palestinian refugees in the fields of health, education, humanitarian aid and social services.
Besides Luxembourg, which has been a UNRWA partner for many years, the UN Secretary-General António Guterres, the Commissioner-General of UNRWA Philippe Lazzarini, as well as the ministers of several dozen UN member states, participated in this conference.
Luxembourg's Foreign Minister began by thanking all UNRWA staff, who continue to work tirelessly, even during the COVID-19 pandemic, to provide care and health services for 5.6 million Palestinian refugees in Jordan, Gaza, the West Bank, Lebanon and Syria. In this context, the support of the Luxembourg Development Cooperation for the project "Protecting the health of the youth in Gaza" is helping UNRWA to provide essential healthcare to young people in the Gaza Strip.
Minister Jean Asselborn also welcomed the new UNRWA Commissioner-General, Philippe Lazzarini, assuring him of Luxembourg's full support and encouraging him to pursue reforms within the agency.
Luxembourg's Foreign Minister then recalled the considerable challenges which the Palestinian refugees have to face in the region: "The war in Syria continues to rage. In Lebanon, refugees are affected by the economic and financial crisis. The West Bank faces the threat of annexation. We must firmly oppose any annexation by Israel of parts of the West Bank. Such an annexation would violate international law and prevent a lasting and just solution to the question of the Palestine refugees, in the context of the two-state solution".
Given the crucial work of UNRWA and its stabilising role in the region, Minister Jean Asselborn promised that Luxembourg will continue to support this UN agency on a multi-year basis. Indeed, the Luxembourg Development Cooperation's support for UNRWA will amount to €5 million per year under the multi-year contribution agreement concluded for the period 2019-21.