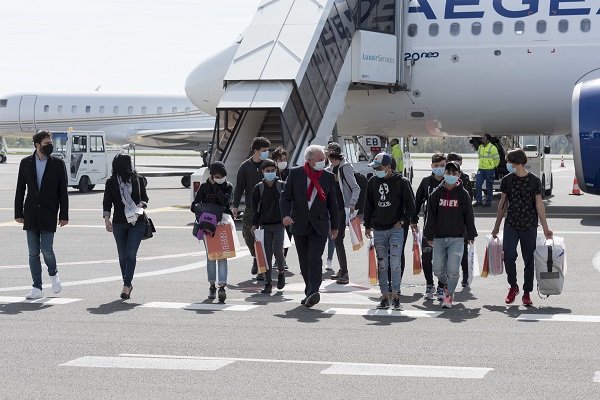 Unaccompanied minors arriving from Greece; Credit: © SIP / Jean-Christophe Verhaegen, tous droits réservés
On Wednesday 15 April 2020, a total of twelve unaccompanied refugee children arrived in Luxembourg from the Greek islands of Lesbos, Samos and Chios.
The news that Luxembourg would accept these 12 children (from Afghanistan and Syria aged 11-15 years) was announced on Tuesday last week; today, Luxembourg's Minister of Foreign and European Affairs and Minister of Immigration and Asylum, Jean Asselborn, welcomed them on their arrival to Findel airport in Luxembourg.
The decision for Luxembourg to accept the children was reportedly made following a telephone call last week between Minister Jean Asselborn and the Greek Alternate Minister for Migration and Asylum Policy, Georges Koumoutsakos.
They will be housed in accommodation in the north of the country and will be quarantined for 14 days beforehand. Caritas and Office national de l'enfance (ONE) will look after their asylum applications and integration.
Nearly 5,000 unaccompanied minors are currently in Greece, including 1,600 on the Aegean islands, in particularly precarious situations.
The transfer of the 12 children was organised by the International Organisation for Migration (IOM) who had liaised with the Greek authorities and the United Nations High Commissioner for Refugees (UNHCR).
Last week, Minister Asselborn commented "I thank the Greek authorities and especially my friends, the Minister of Foreign Affairs Nikos Dendias and the Alternate Minister Georges Koumoutsakos, as well as the officials of the UNHCR and the IOM for having contributed to concretise this gesture of solidarity with Greece and to offer the perspective of a dignified life to these young people in our country".