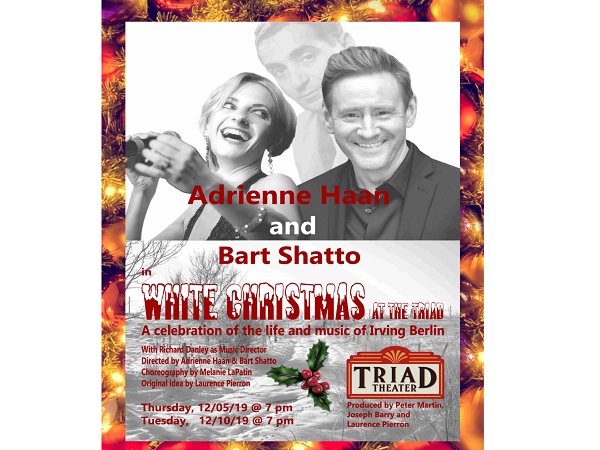 "White Christmas At The Triad II"; Credit: Adrienne Haan
German-Luxembourgish cabaret artist Adrienne Haan will be performing her new show "White Christmas at the Triad II" at the Triad Theatre in New York City on Thursday 5 December and Tuesday 10 December 2019 at 19:00.
Produced by Peter Martin, Joseph Barry and Laurence Pierron and written by Laurence Pierron, this festive show features Adrienne Haan and Broadway star Bart Shatto, under the musical direction of Richard "orchestra" Danley. Melanie LaPatin, US Professional Ballroom Dance Champion, and her assistant Darina Jeleva, are in charge of choreography.
"White Christmas At The Triad II" tells the life story of the US composer Irving Berlin and his close relation to Luxembourg. Combining their talents, Adrienne Haan and Bart Shatto will present some of the most beautiful Christmas songs as well as some of Irving Berlin's lesser known works to celebrate this year's festive season.
This year's show is longer than previous years (90 minutes without an intermission).
Tickets are available from https://tickets.vendini.com/ticket-software.html?e=d16833a1997fc16cf087251e952507f3&t=tix&vqitq=b0c5d0f7-d072-4553-b260-aeba4084e10a&vqitp=3da90579-969d-4658-89f4-f59ec99cf9cc&vqitts=1564154494&vqitc=vendini&vqite=itl&vqitrt=Safetynet&vqith=55f0d6931e4aea01cd331e289fa5363f.