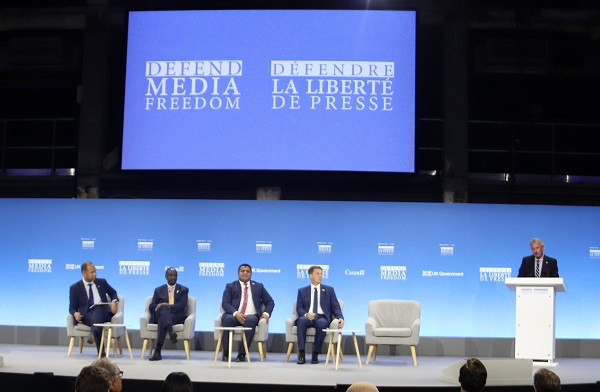 Credit: MAEE
Luxembourg's Minister of Foreign and European Affairs Jean Asselborn participated on Thursday in the Global Conference for Media Freedom in London.
The conference, which was the first of its kind, was devoted to protecting the civic and media space and brought together 1,500 guests, including some 60 political ministers. It provided a platform for policy-makers and experts to have in-depth discussions on the protection of the media and the fight against impunity for violence against journalists, as well as on national legislative frameworks on freedom of the press, the reinforcement of confidence in the media and the fight against misinformation.
In his speech, Minister Asselborn recalled that "a free, critical and independent press is indispensable to liberal democracy and to any open society. Journalists and media professionals hold politicians, governments and private companies accountable and help to guarantee everyone's right to information".
The Luxembourg Foreign Minister also regretted that "there is a general decline in civil and political rights in the world". In this context, he added that "women human rights defenders and women journalists are particularly targeted. This crisis spares no region of the world".
Recalling that Luxembourg is committed to "placing the protection of the civic space, human rights defenders, media professionals and journalists at the heart of its human rights diplomacy", Minister Asselborn announced that the Grand Duchy has endorsed the "Global Pledge on Media Freedom" by which conference participants demonstrate their commitment to act globally and nationally to defend the freedom of the press and the media.
Luxembourg has also declared itself ready to join the "Media Freedom Coalition", a group of like-minded states committed to press and media freedom and the safety of those working in the sector.
Minister Asselborn concluded by calling on governments to "recognise that they must protect journalism in the public interest", adding that "our commitment to media freedom can be global, but it must begin at home by redoubling our commitments to the protection of human rights, democracy and the rule of law".