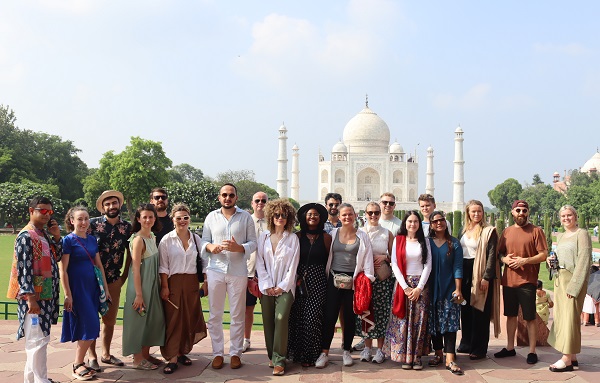 Credit: ICCR
Just over a month ago, I returned to Luxembourg after an unforgettable ten-day visit to northern India. Whilst a lot has already been said and written about the land of contrasts that is India, nothing compares to experiencing a place (not least one of the oldest civilisations in the world) for yourself - even if only for a limited time.
In August 2023, I had the privilege of representing Luxembourg as part of the eleventh edition of the Gen Next Democracy Network Programme organised by the Indian Council of Cultural Relations (ICCR). The main goal of this flagship initiative, which began in 2021, was to commemorate 75 years of Indian independence and democracy by bringing together bright young and emerging leaders (from the worlds of politics, business, media, etc.) from 75 democracies across the globe, to engage with one another and learn about India's democratic journey. With my batch, which is expected to be the last one, the programme exceeded its target, having brought more than 250 delegates from 77 democratic countries over to India between November 2021 and August 2023.
I was among a group of delegates selected from nine countries: Luxembourg, Ireland, the United States, Namibia, Italy, Denmark, Iceland, Albania and Moldova. Together with a couple of Indian delegates, we had the opportunity to explore Delhi, Agra and Srinagar, in the Jammu and Kashmir region. The programme was a mix of conferences and seminars, namely about Indian culture and democracy, and sightseeing. We also had the opportunity to engage with high-level officials, including India's Minister of State for External Affairs and Culture, Meenakshi Lekhi, and the Lieutenant Governor of Jammu and Kashmir, Manoj Sinha. The ICCR (with the help of the Embassy of India in Brussels, in my case) took care of everything: flights (international and domestic) and other transport within India, accommodation and most food and drink, as well as guided tours and other activities.
The visit began in Delhi, with the official programme kicking off with dinner at the hotel where we were staying on the evening of Thursday 17 August 2023. My fellow delegates and I introduced ourselves and interacted with both the President and the Deputy Director General of the ICCR, who presented the programme and its objectives.
Earlier that same day, I had taken advantage of some free time by visiting the Amar Nath Sehgal Private Collection, an art studio-turned-museum presenting the life and works of the late Amar Nath Sehgal who had spent a significant chunk of his adult life in Luxembourg - his bronze bust sculpture of Mahatma Gandhi can be found today in the municipal park in Luxembourg City. Having researched the artist and his work for an earlier article, I found it particularly interesting to be able to visit his studio in Delhi.
The following day, my fellow delegates and I visited the Parliament of India in Delhi, where we learned about the history of this old parliament building (a new one was inaugurated recently) - particularly the influence of British colonialism on its architectural style - and the functioning of parliamentary sessions. This was followed by interactive lectures, particularly on the economic, political and social history of India since gaining its independence from the British in 1947 and India's current and future role in the world. Later in the trip, we sat in on lectures on Indian culture and civilisation (with a focus on archaeology) and the Indian government's efforts to support women and marginalised members of society.
The Delhi leg of the trip also included visits to the historic Red Fort, the lively Dilli Haat INA street market (a good opportunity to engage in the art form of haggling) and two museums: the Pradhanmantri Sangrahalaya museum, which utilises both old and new interactive tools to showcase the role of India's prime ministers (past and present) in the development of the nation, and the National Museum, which displays objects ranging from the pre-historic era to modern artworks.
My first impression of Delhi was that it was noisy and crowded (albeit not as much as I had expected) but vibrant. At first petrified of crossing the very busy roads, I soon realised there was some logic to the chaos, and I embraced it. I also admired the beautiful street art - much of it inspired by G20 - and quickly became accustomed to the image of sleeping stray dogs and mischievous monkeys on the streets (and rooftops, in the latter's case).
Beyond Delhi, the group had the opportunity to visit the iconic Taj Mahal in Agra - one sight that had long been at the top of my bucket list. Despite it still being monsoon season, I only recall having seen rain during part of the four- to five-hour bus journey from Delhi to Agra - for the most part, the weather was very warm (30C+) and humid (although it was cooler in Jammu and Kashmir). We arrived at the Taj Mahal on a Saturday afternoon, when the humidity and crowds appeared to be at their worst, but it was worth it to see one of the Seven Wonders of the World with my own eyes. We spent one night in Agra, in what must have been the most luxurious hotel I have ever stayed (at least until we arrived at an equally if not more impressive hotel in Srinagar a couple of days later).
After another day back in Delhi, we boarded a domestic flight to Srinagar, where, upon landing, a security escort took us to our luxurious mountaintop hotel. Our security team accompanied us to and from the various sights throughout our stay in Jammu and Kashmir, although we were assured that tourists were safe (and we were). The military presence may have unsettled me more had I not experienced similar welcomes in other countries as part of my job. Moreover, I had been aware of the post-partition conflict (disputed territory) and its lasting impact on the region. Coming from a part of the world that is no stranger to conflict (Northern Ireland), I found the development story of Jammu and Kashmir particularly fascinating.
I had also heard tales of the region's outstanding natural beauty, with some comparing it to Switzerland, and enjoyed witnessing this for myself. We even stumbled across the set of a Bollywood film which was being shot against the backdrop of the awe-inspiring mountains and pristine lakes of the Betaab Valley, near Pahalgam. Also on the agenda was a visit to the Shankaracharya Temple (Hindu), as well as a ride on the Gulmarg Gondola cable car, where we could again take in the breathtaking views of the region. Another highlight was a shikara boat journey across the Dal Lake in Srinagar: I vividly remember watching dragonflies dancing across the water as the sun set against the soothing sounds of an Islamic call to prayer that evening (the region has a significant Muslim population).
Also in Srinagar, my fellow delegates and I visited the Sher-e-Kashmir University of Agricultural Sciences and Technology, where we received a very warm welcome (red carpet treatment) and had an opportunity to engage with some of the students, before enjoying some musical performances.
Overall, my recent trip to India was a positive experience (minus an unsettled stomach after several spicy but delicious dishes). This relatively short but intense visit helped scratch the surface of this fascinating place for me; I particularly enjoyed learning about the people of India, their culture(s) and the concept of "spiritual democracy", as touched upon in some of our lectures. The visit also reinforced in me the idea that democratic countries from around the world can learn from each other and achieve even more together; we all have our flaws and India is no exception (despite my own overwhelmingly positive experience). Indeed, it was a particularly interesting time to visit India since the dates of our trip coincided with the lead-up to the G20 New Delhi Summit and the historic landing of Chandrayaan-3 near the south pole of the Moon - two historic and globally significant events.
Other personal highlights included learning about the Jammu and Kashmir development story - and getting to admire the beauty of this hidden gem, as well as engaging with university students and, of course, with my fellow delegates, with whom I will stay in touch.
I must add that this trip was particularly special for me as someone with Indian heritage who had previously not had the opportunity to visit. I should also add that I am aware of how privileged I have been to experience India in such a comfortable way (with everything taken care of) but do plan to return one day, perhaps experiencing a different side to this multifaceted country - I can imagine that one lifetime is not enough to experience all India has to offer.
For now, I will content myself with continuing to engage with my fellow Gen Next Democracy Network delegates, as well as with the vibrant Indian community that exists here in Luxembourg. After a bit of a reverse culture shock when my flight landed in Luxembourg at the end of August and I went straight to the Schueberfouer, a recent India Day celebration, organised by the Indian Association Luxembourg (IAL), managed to almost transport me back to India...