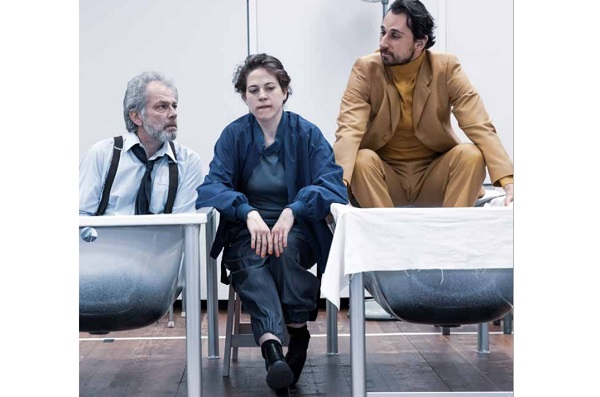 Details:
The Grand Théâtre de Luxembourg is putting on performances of "The Hothouse" on 24, 25, 26, 30 and 31 March and on 1, 2, 6, 7, 9, 10 and 11 April 2021.
Directed by Anne Simon, this adaptation of Harold Pinter's tragicomedy "The Hothouse" will premiere at the Grand Théâtre on Wednesday 24 March 2021 at 20:00.
Originally written in 1958 and then shelved for over 20 years by Harold Pinter himself, The Hothouse strikes today as an eerily prophetic piece with themes such as daily surveillance, disappearance of privacy and perma-nent control of our daily lives which at the time must have sounded like dystopian fiction.
The international ensemble around director Anne Simon immerses the audience in a dark, absurdist microcosm that its inhabitants desperately try to keep in existence because it is their sole raison d'être. Anouk Schiltz' 360°set, reminiscent of a panopticon prison, plunges the spectator right at the heart of this dangerous game of appearances and slipping realities. After all, what else is a hothouse than microcosm of a society under magnifying glass under which everything develops at an accelerated speed?
The play lasts around two hours (no intermission) and each performance will be preceded by a 30-minute introduction (in English) by Janine Goedert.
Tickets cost €20 for adults and €8 for students / young people. Kulturpass welcome. Reserve tickets via email: info@luxembourgticket.lu or tel.: 470-8951.
For further information, visit theatres.lu/SAISON+2020-2021/Th%C3%A9%C3%A2tre_Th%C3%A9%C3%A2tre+musical/THE+HOTHOUSE.html.
Venue: Grand Théâtre, 1 Rond-Point Schuman, L-2525 Luxembourg
Organiser: Grand Théâtre
Price: See above
Reservations: See above