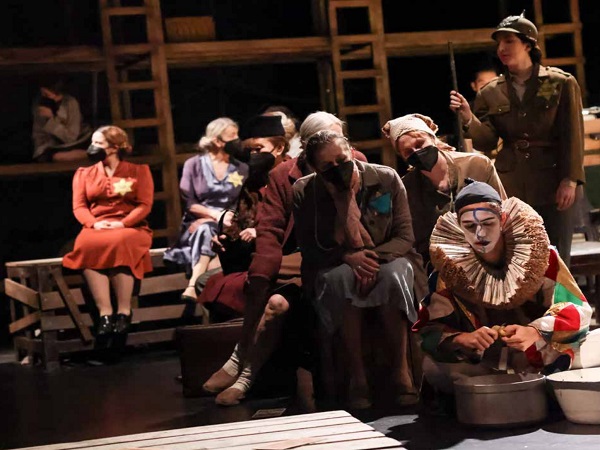 Details:
The latest creation of the Grand Théâtre de la Ville de Luxembourg, "Zu unseren Schwestern, zu unseren Brüdern" (to our sisters, to our brothers), directed by Stéphane Ghislain Roussel, will premiere on Thursday 20 January 2022 at 20:00.
A revisited reading of the emblematic articles of the European Convention on Human Rights (ECHR), the world premiere of "En vertu de...", an opera for one voice and three musicians composed by Eugene Birman, engages in a reflection on the rise of extremism in Europe. This part is in French and English, with German surtitles.
The operatic diptych continues with "Der Kaiser von Atlantis", composed by Viktor Ullmann in 1943 in the Theresienstadt concentration camp, a true echo of life in the camp and the authoritarian grip of Nazi Germany. This part is in German, with French and English surtitles.
This timely show, which lasts two hours and 30 minutes (with intermission), is conceived around the same performer: baritone Michel De Souza.
The first part of the creation will take place at the Hemicycle of the European Convention Center Luxembourg (ECCL). Spectators with a valid ticket can go directly to the Hemicycle by taking the tram in front of the Grand Théâtre (direction Luxexpo, stop Philharmonie / Mudam). The route will be marked out.
The second part will take place at the Grand Théâtre.
Other performances are scheduled to take place on Saturday 22 and Tuesday 25 January 2022 at 20:00 and on Sunday 23 January 2022 at 17:00.
Tickets cost €20 (youth rate: €8) and are available via the Luxembourg Ticket website: https://www.luxembourg-ticket.lu/en/8/eid,50440/zu-unseren-schwestern%2c-zu-unseren-bruedern.html.
Venue: Hemicycle, ECCL / Grand Théatre de la Ville de Luxembourg
Organiser: Grand Théâtre de la Ville de Luxembourg
Price: See above
Reservations: See above