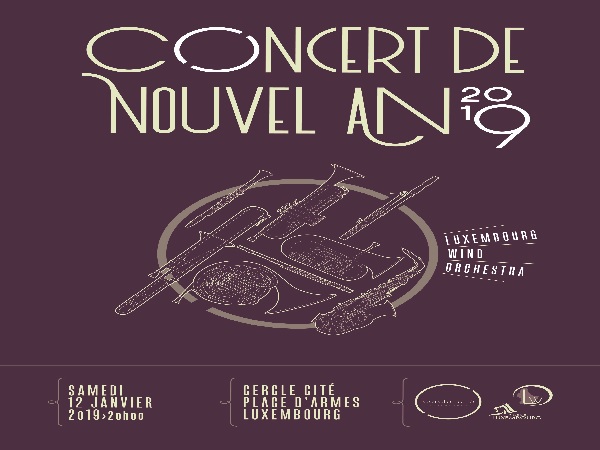 Details:
The Luxembourg Wind Orchestra will be welcoming 2019 with a New Year Concert, planned for Saturday 12 January in the Grande Salle at Cercle Cité at 20:00.
The Luxembourg Wind Orchestra, under the direction of Philippe Noesen and composed of about fifty musicians including a large number of music teachers, military musicians and music lovers alike will perform a variation of literary works of wind orchestra as well as traditional Viennese works as part of the Cercle Cité's traditional New Year Concert.
Part One will include representations of the following works: James Barnes' Symphonic Overture and Georges Bizet's Carmen Suite. Following an intermission, Part Two will feature: Johann Strauss' Die Fledermaus and Brautschau Op. 417 from "Der Zigeunerbaron", Richard Wagner's O du mein holder Abendstern from "Tannhäuser", Johann Strauss' Unter Donner und Blitz, Rosen aus dem Süden and Fest Marsch, and Matthew Zadow's Soloist.
Cercle Cité will also offer guests a glass of cremant from Domaine Alice Hartmann.
Doors open at 19:00 with the concert starting at 20:00.
Tickets cost €36 or €18 for students and are available at http://tickets.luxembourg-ticket.lu/26485, via email: info@luxembourg-ticket.lu or tel.: (+352) 47 08 95 1. Tickets can also be bought on the evening itself.
Venue: Grande Salle, Cercle Cité
Organiser: Cercle Cité
Price: €36 or €18 for students
Reservations: http://tickets.luxembourg-ticket.lu/26485, via email: info@luxembourg-ticket.lu or tel.: (+352) 47 08 95 1