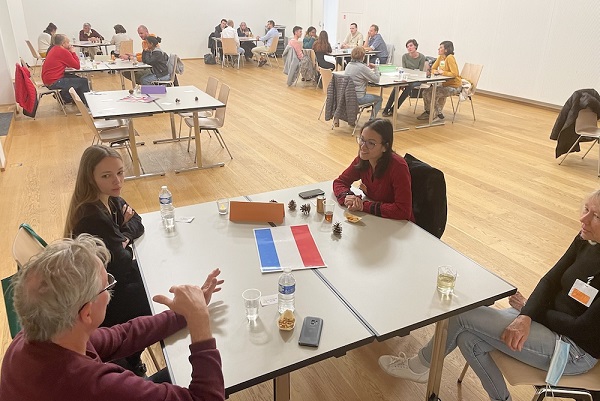 Details:
ASTI, a non-profit organisation supporting migrant workers in Luxembourg, is organising, in collaboration with Syndicat d'Initiative Eich-Dommeldange-Weimerskirch, a monthly language cafe at Drescherhaus cultural centre in Luxembourg-Dommeldange.
From the end of February 2022, those interested will have the opportunity to discover and practise different languages ​​in a relaxed way and to make new friendships with participants from various backgrounds. At each conversation table, learners will be able to speak another language in an informal setting, be it French, German, English, Italian, Spanish, Portuguese or Luxembourgish (among others).
The first language cafe of the year will take place on Wednesday 23 February 2022 at 19:00.
Subsequent sessions will take place on the following Wednesdays: 23 March 2022; 27 April 2022; 18 May 2022; 29 June 2022; 28 September 2022; 26 October 2022; 30 November 2022.
Each session will start at 19:00 and will last approximately 90 minutes. They will take place under the CovidCheck regime.
Each participant will receive tokens for two free drinks.
Participation is free and open to all, but registration is required (at the latest the day before the session) via email: travcom@asti.lu.
Venue: Drescherhaus cultural centre (26a Rue du Château, L-1329 Luxembourg-Dommeldange)
Organiser: ASTI
Price: Free
Reservations: See above