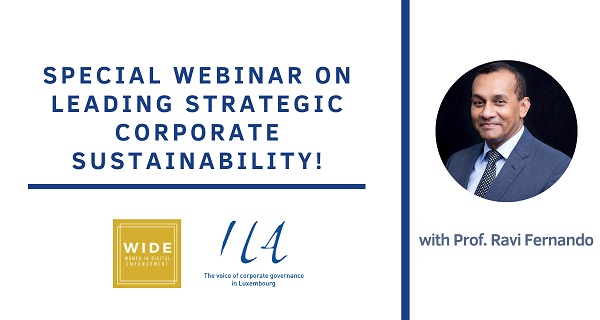 Details:
Women in Digital Empowerment (WIDE) have partnered with the Institut Luxembourgeois des Administrateurs (ILA) to organise a series of webinars on "Leading Strategic Corporate Sustainability" with Professor Ravi Fernando, an alumni of the University of Cambridge.
These webinars aim to raise awareness of the need for leading strategic corporate sustainability from the boardroom to become part of the solution to the climate and health emergency.
The webinar will be offered three times: on 18 and 25 June and on 2 July 2020, from 13:30 to 15:30. The content will be the same for each session.
This webinar is aimed at women and men, in particular current or aspiring board member, interested in sustainability issues.
Members of the WIDE Community benefit from a special rate of €50. For further details and to register, see https://www.ila.lu/event/leading-strategic-corporate-sustainability-session-3-2020-07-02-3885/page/introduction-leading-strategic-corporate-sustainability-session-3.
Venue: Online
Organiser: WIDE; ILA
Price: See above
Reservations: See above