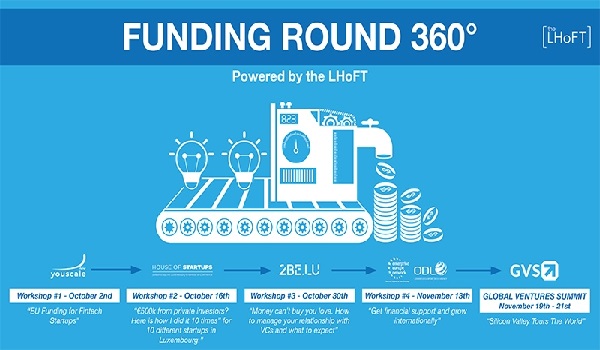 Details:
The Luxembourg House of Financial Technology (LHoFT) is organising a workshop series on startup funding.
LHoFT has put together a series of workshops dedicated to funding with the insights of the best experts and practitioners. This series of workshops serves as a lead up to the Global Ventures Summit Europe that will take place in Luxembourg on 20 and 21 November 2019.
The "Funding Round 360" workshop series kicked off yesterday with a lunchtime workshop on "EU Funding for Fintech Startups". The series will continue with workshops on 16 and 30 October and 13 November 2019.
The second workshop, entitled "€500k from private investors? Here is how I did it 10 times for 10 different startups in Luxembourg", will see House of Startups (HoST) fundraising advisor Nicolas Valaize share his experiences on Wednesday 16 October 2019 from 12:00 to 13:00.
The third workshop, being held at the same time on Wednesday 30 October 2019, will see 2be.lu CEO Alexander Tkachenko discuss "Money can't buy you love- How to manage your relationship with VCs and what to expect".
Finally, at the same time on Wednesday 13 November 2019, the Enterprise Europe Network and the Luxembourg Export Credit Agency will address the subject "Get financial support and grow internationally".
For further information, visit https://www.lhoft.com/en/insights/funding-round-360-workshops-series or e-mail info@lhoft.lu.
Venue: LHoFT (9 Rue du Laboratoire, L-​1911 Luxembourg)
Organiser: LHoFT
Price: n/a
Reservations: See above