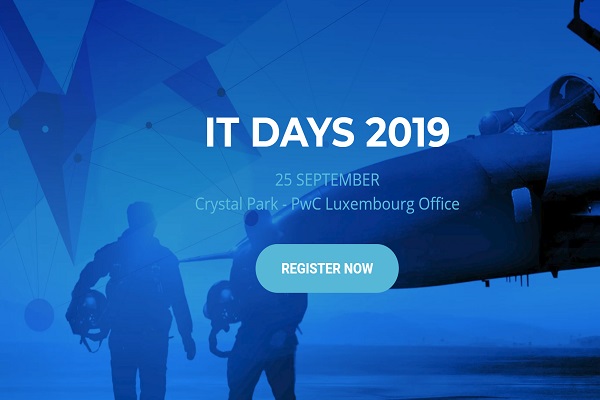 Details:
IT One has announced the first guest speakers to participate in the 2019 edition of Luxembourg's IT Days, being held on 25 September 2019 at PwC Crystal Park in Luxembourg-Cloche d'Or.
The event will be dedicated to discussing the exceptional personalities co-piloting Digital Transformation within organisations, through a new concept of gamified fireside chats. It will also feature keynote speeches, start-up pitches and success stories.
The confirmed lineup of speakers and duos is as follows:
Eric Payan, Chief Digital Officer at Bosch Rexroth
Olivier Beaujean, Chief Digital Officer & Chief Information Officer of IEE
Olivier Vansteelandt, CIO, and Magali Zuber, Head of Marketing, Offer & Distribution at AXA Luxembourg
Gilles Delattre, VP Digital Transformation, and Yannick Kirschhoffer, Chief Information Officer at LuxairGroup
Sponsoring this year's event are PwC Luxembourg, Entreprises Magazine, Leaders League, AGEFI Luxembourg, Entertainrr and FARVEST.
A standard ticket for IT Days 2019 costs €300 (or €250 for IT One partners). To register and for more information, visit https://www.itdays.lu/#2.
Venue: PwC Crystal Park, Cloche d'Or
Organiser: IT One
Price: See above
Reservations: https://www.itdays.lu/registration