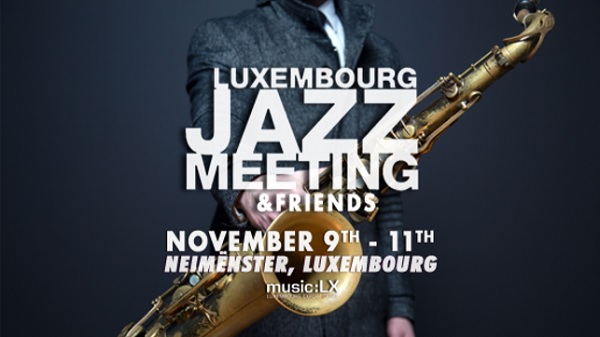 Details:
The 4th edition of the Luxembourg Jazz Meeting will take place from 9-11 November 2018 at the Abbaye de Neumunster in Luxembourg-Grund, with more than 12 jazz groups, 10 of which are Luxembourgish, with 80 music professionals from all over Europe and even Asia.
The "Luxembourg Jazz Meeting & Friends" is one of the highlights of the Luxembourg jazz scene which, in a very short time, has become the unmissable rendezvous of the genre's aficionados and foreign professionals.
Organised every two years by musicLX and neimënster, with the support of the Ministry of Culture and Sacem, the festival celebrates this year its 4th edition. This year again, Luxembourg Jazz Meeting & Friends will present in showcases the cream of jazz artists of the country, confirmed or discovered artists, along with two international formations presented in the context of exchanges of artists.
In addition to being a major cultural event, the Luxembourg Jazz Meeting & Friends is also an opportunity to welcome 80 foreign music professionals and a springboard that has helped to launch many Luxembourg artists abroad. The festival, which offers free admission, allows you not only to discover or rediscover the talents of today's jazz, but also to interact with artists and invited professionals.
PROGRAMME
Friday 9 Nov
2000 - Krzysztof Kobylinski (Pologne)
2050 - Greg Lamy Quartet
2140 - Jeff Herr Corporation
2230 - Klein.
Sat 10 Nov
2000 - Pol Belardi's Urban 5
2050 - Maxime Bender Universal Sky
2140 - Dock in Absolute
2230 - Michel Reis Japan Quartet
Sun 11 Nov
1100 - Reis-Demuth-Wiltgen
1150 - David Laborier NEXT
1240 - Machado/Ithursarry (France)
1330 - Claire Parsons Duo
Free entry to all concerts.
Venue: Abbaye de Neumunster in Luxembourg-Grund
Organiser: Music:LX
Price: free
Reservations: n/a