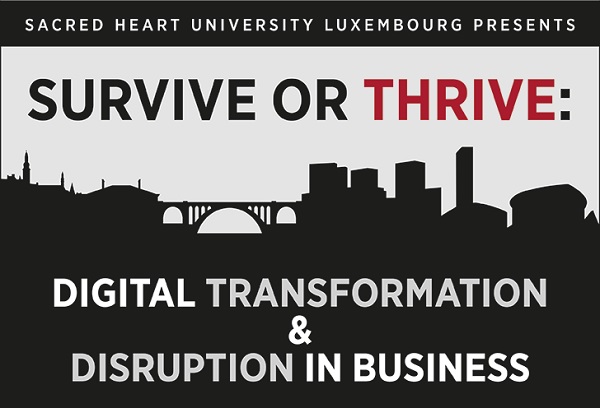 Details:
The Jack Welch College of Business at Sacred Heart University Luxembourg has announced that it is organising an event entitled "Survive or Thrive Digital Transformation & Disruption in Business" on Tuesday 13 November 2018 at 1830 at Arendt House (41A Ave JF Kennedy, Luxembourg-Kirchberg).
The Opening Remarks will be made by Guy Harles, Founding Partner & Co-Chairman at Arendt & Medernach, which will be followed by a panel discussion involving Marc Lemmer (SnT), Christophe Folschette (Trendiction) and Pierre-Olivier Rotheval (BIL) who are spearheading digital initiatives in their organisations, and moderated by Raphaël Frank, Managing Director at techlabs Luxembourg and Adjunct Professor at Sacred Heart University.
Those attending will gain insights into the future that digital transformation can provide for your organisation, social media monitoring and how analytics can escalate your organisation and the innovative marketing tactics involved.
The conference will be followed by a Networking Cocktail
This event is open to the public. Registration is mandatory - see www.shu.lu/conferenceregistration.
Venue: Arendt House (41A Ave JF Kennedy, Luxembourg-Kirchberg)
Organiser: Jack Welch College of Business at Sacred Heart University Luxembourg
Price: n/a
Reservations: www.shu.lu/conferenceregistration