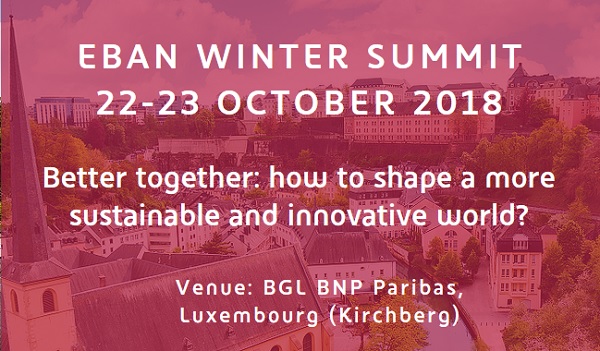 Details:
EBAN Winter Summit to Address Seed Investments Best Practice
The EBAN Winter Summit 2018 will take place from 22 to 23 October 2018 at BGL BNP Paribas in Luxembourg-Kirchberg.
The event is co-organised by the Lux Future Lab, the European Business Angel Network (EBAN), the Luxembourg Business Angel Network (LBAN) and the European Commission, with support from Luxembourg's Ministry of the Economy. Bringing together a community of highly engaged investors and entrepreneurs, the EBAN Winter Summit highlights the most relevant themes and best practices in the field of seed investments.
The 2018 edition will focus on the theme "Better together: how to shape a more sustainable and innovative world" and will welcome renowned speakers such as Viviane Reding (Member of the European Parliament), Yvan Bourgnon (Skipper, Adventurer & Environmentalist), Robert Glaesener (CEO of Talkwalker) and Nasir Zubairi (CEO of LHoFT).
The conference will be held in English.
For further details and the complete programme, see https://www.eban-luxembourg-2018.com/
Venue: BGL BNP Paribas in Luxembourg-Kirchberg.
Organiser: Lux Future Lab, the European Business Angel Network (EBAN), the Luxembourg Business Angel Network (LBAN) and the European Commission
Price: see https://www.eban-luxembourg-2018.com/
Reservations: see https://www.eban-luxembourg-2018.com/