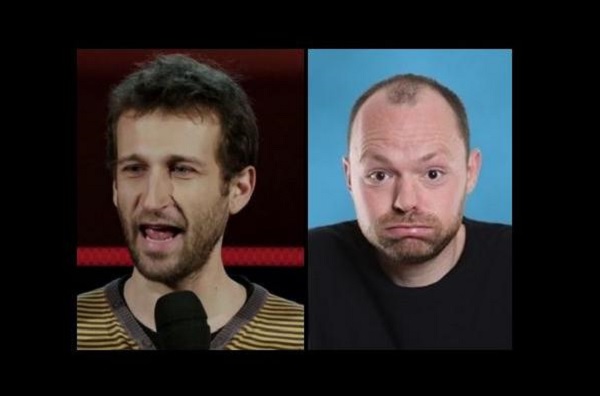 Details:
InternationalComedians.com has announced that the next Luxembourg Comedy Showcase will take place on Saturday 19 January 2019 at 21:15 at the Marionnette (15 rue de Strasbourg, Luxembourg-gare).
The popular Luxembourg Comedy Showcase is returning for its first show in 2019 with more stand-up comedy acts coming to perform in Luxembourg in English. This show welcomes headline acts Will Mars (UK) and Radu Isac (Romania).
Doors open 19:30 for those dining (some of the best pizza in town), and from 20:00 for those just to see the show which starts at 21:15.
Eating guests can reserve a table by tel: 481217 (book a table time by 20:15 to get food orders in before the show).
Earlybird tickets @ €16 (€20 normal price; €25 at the door) - 50 earlybird tickets are available until Sunday 13 January at midnight. Group of 4 or more? email: lux@internationalcomedians.com for a group rate.
Tickets available from https://billetto.eu/en/e/online-tickets-luxembourg-comedy-showcase-sat-jan-19-tickets-328151 (print out or show your ticket on your phone).
Will Mars (UK)
Brilliantly self-deprecating stand-up, Will Mars, is fast making a name for himself as a down-at-heel, yet lovable international star. Whilst living in New York for the past few years, the English Comedian of The Year Finalist, has earned notoriety from his peers and audiences alike in both live comedy clubs as well as on air where he made his TV debut on Fox's Showtime at The Apollo. In 2018 he returned to U.S. television on Season 8 of NBC Comcast's knockout television show, Trial By Laughter, winning a place in the series final! ★★★★ "A remarkable talent ... A comic tour de force" EdFringe Review (U.K.), ★★★★ "As a storyteller he is a joy to experience" Mumble Comedy (U.K.), ★★★★ " A unique and witty perspective on thoughts that many have but rarely articulate" Adelaide Advertiser (Australia), Top 50 Best One-Liners from the Edinburgh Fringe 2017 The Scotsman (U.K.)
Radu Isac (Romania)
Radu has been a professional comedian in Romania ever since he was old enough to quit collage. For 9 years he was known as Romanian's comedians comedian by the 20 comics in the country In 2015 he moved to London and in 2017 made it to the final of the English Comedian of the Year competition. As Chortle put it, his comedy is 'simultaneously sweet and dark', "cynical and tricksy.", "sharp and quirky comic mind", "playful, idiosyncratic comedy.", "new perspective on recognisable scenarios" - Chortle. Credits include: COMEDY CENTRAL'S EXTRA – "STAND UP EXPRESS" 2014, BBC WORLD SERVICE – "WHAT MAKES THE WORLD LAUGH" 2016, BBC RADIO 4 – "FRESH FROM THE FRINGE" 2017, BBC WORLD SERVICE – "THE ARTS HOUR" 2017
Note: Radu will also perform in a Romanian language show on 20 January - the jokes will be different than the ones in English - see https://www.facebook.com/events/294983284555243/
SAVE THE DATES:
16 Feb Comedy Showcase: Rory O'Hanlon (Ireland), Otto Kuhlne (Germany)
16 Mar Comedy Showcase: Laura Lexx (UK), Sol Bernstein (Israel)
27 Apr Comedy Showcase: Daniel Muggleton (Australia), Omid Singh (USA)
13 June: 1st Annual Premium Showcase at Ciné Utopia, with MC Christian Schulte Loh (Germany), Allyson Smith (Canada), Keith Farnan (Ireland), March Lucont (France) & Phil Nichol (Canada). Tickets cost €40 (advance), €50 (on the door), two person earlybird ticket €70. Info and earlybird reservations by e-mail: june13@internationalcomedians.com
Venue: Marionnette (15 rue de Strasbourg, Luxembourg-gare).
Organiser: InternationalComedians.com
Price: see above
Reservations: see above