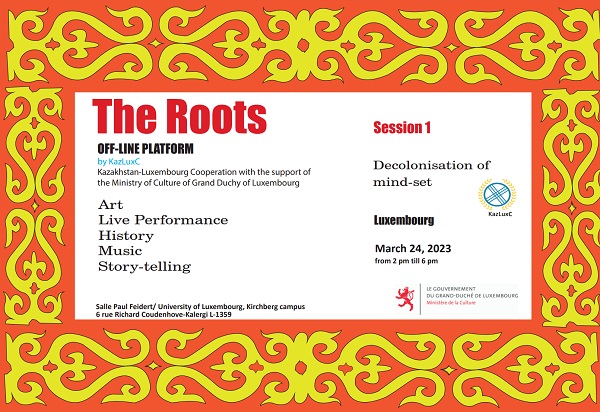 Details:
The Kazakhstan-Luxembourg Cooperation Asbl is organising a first session of the offline platform "The Roots", with the support of Luxembourg's Ministry of Culture, on Friday 24 March 2023 from 14:00 to 18:00 in Hotel Parc Belle-Vue in Luxembourg-Ville (NEW VENUE).
"The Roots" is a physical stage-platform for reflection on the role of culture, art and history in the modern world. By being the biggest financial market in Europe and country with more than 175 nationalities, Luxembourg has the potential to become a crossroad of cultures.
This first session will focus on the "Decolonisation of mindset".
The event will have the following components:
1. Art: "Art offers healing". Art-performance by conceptual artist from Luxembourg Egberdien Van Der Peijl on the subject of decolonisation of mindset.
2. Storytelling: "Storytelling is a grid of a society". Storytelling by means of Zhyr and Terme (Kazakh traditional musical compositions) by Kazakh musical instruments Kobyz and Dombra player, student of Krachow Musical Academy, Satkozy Muhtar.
3. Music: "West meets East". Classical European instrument Flute, together with the ancient Kazakh traditional instrument Kobyz will merge in a symbolic performance. Aidana Madyar, a talented flute player from the University of Music and Performing Arts of Vienna who performed on many big stages in Europe will make a duo for the event with Satkozy Muhtar playing Kyl Kobyz.
4. Excursion to the history: "Every social phenomenon has its roots in history". Archaeologist, PhD researcher at the University of Cambridge (UK) Saltanat Amir will lead us "in our journey to history we have never known before". Saltanat Amir was a Project Curator of the exhibition at the Fitzwilliam Museum in Cambridge named the "Gold of the Great Steppe", which was dedicated to Saka culture and included thousands of archaeological artefacts originating from East Kazakhstan. The exhibition was shortlisted by the Apollo Magazine among the best six exhibitions in the world in 2021.
The Kazakh Association in Luxembourg has the mission to develop cultural, business and educational exchanges.
Venue: Hotel Parc Belle-Vue (Petruss Hall; 5 Avenue Marie-Thérèse, L-2132 Luxembourg)
Organiser: Kazakhstan-Luxembourg Cooperation Asbl
Price: n/a
Reservations: n/a