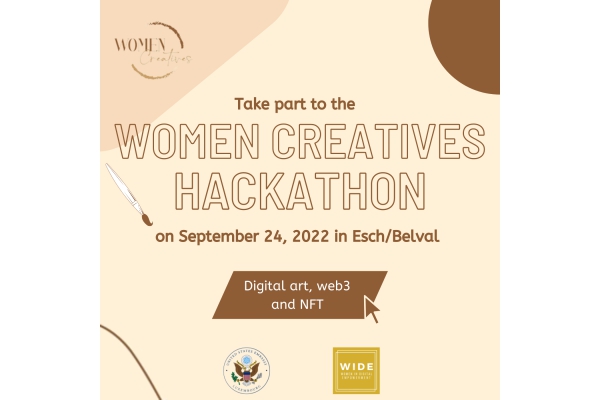 Details:
Luxembourg non-profit Women in Digital Empowerment (WIDE) is organising a series of events aimed at supporting female entrepreneurship.
Introduction to blockchain: Friday September 2022 from 13:00 to 16:30pm, at Technoport in Esch-Belval, a free introductory session for women on the principles and opportunities of blockchain and digital assets. No specific knowledge is required to participate in this workshop. Only five spots left. Registeration is required by email to: coding@women-digital.lu.
Women Creatives Hackathon: Saturday 24 September 2022 from 9:30 to 17:30, at Technoport in Esch-Belval, aimed at entrepreneurs, marketers and IT specialists.
Coding and web development: 26, 27 and 28 September2022 at Digital Learning Hub (DLH), a free coding and web development introduction for women.
Family coding workshops: 22 and 29 October 2022, with the support of the Ministry of Equality between Women and Men, the workshops will allow parents to discover programming with their children (eight to twelve years old). One session will be offered in English and the second one will be in French.
Bridging the Gap IT skills workshops: 11 and 12 October 2022, hybrid ICT skills training sessions for women entrepreneurs (one in English, one in French), aimed at women with basic IT skills that they want to improve and includes Internet information, online collaboration and communication.
Venue: Technoport in Esch-Belval
Organiser: WIDE
Price: n/a
Reservations: see above