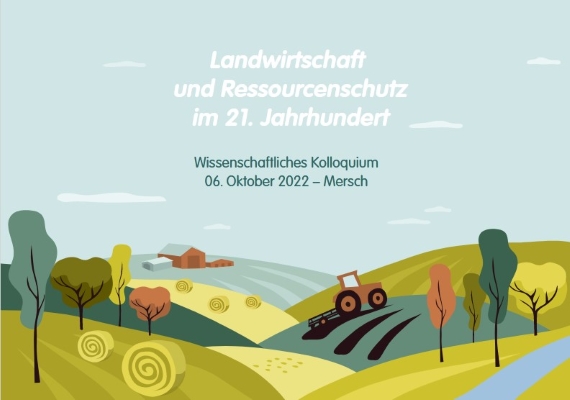 Details:
Luxembourg's nature conservation non-profit organisation natur&ëmwelt, together with the national museum of natural history (musée national d'histoire naturelle - MNHN), the Nature and Forest Agency (administration de la nature et des forêts - ANF) and the Water Management Administration (administration de la gestion de l'eau - AGE), is organising a scientific symposium on Thursday 6 October 2022 from 09:00 at the Mierscher Kulturhaus at 53, rue Grande-Duchesse Charlotte, L-7520 Mersch.
Theme of the symposium is "Agriculture and resource protection in the 21st century".
Due to global warming and the reduction of biodiversity in the world, the subject of the protection of resources is also becoming increasingly important in Luxembourg agriculture. This year's symposium is divided into three blocks that deal with resources and their protection: soil, biodiversity and water.
The central question is to know how all the actors can together design a sustainable agriculture in order to guarantee the protection of resources. The symposium will be followed by a final debate during which representatives of agriculture, politics and public administration will take the floor.
This interdisciplinary symposium brings together topics such as ecology, nature protection, water management and agriculture. It is aimed at all people who, out of professional or private interest, are committed and concerned with the protection of nature and the environment as well as with sustainable agriculture (such as farmers, local authorities and institutions, scientific institutions, research institutes, associations, etc.), including students in these fields.
This year's symposium was organised under the patronage of the Ministry of Environment, Climate and Sustainable Development, the Ministry of Agriculture, Viticulture and Rural Development and the Ministry of Culture.
Registrations are open until Monday 3 October 2022 via http://tickets.luxembourg-ticket.lu/33734. The registration fee is €35 (plus booking fee) and includes conferences, coffee break, lunch and round table.
Venue: Mierscher Kulturhaus at 53, rue Grande-Duchesse Charlotte, L-7520 Mersch.
Organiser: natur&ëmwelt
Price: €35 (plus booking fee)
Reservations: see above