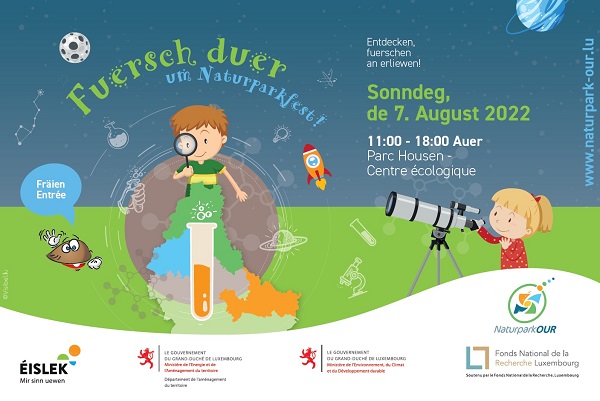 Details:
The Nature Park Our is organising its traditional "Naturparkfest" (nature park festival), with the support of the National Research Fund (Fonds National de la Recherche - FNR), at Parc Hosingen on Sunday 7 August 2022, from 11:00 to 18:00.
Throughout the day, there will be a total of 29 workshops, particularly aimed at children and families, inviting participants to learn about the different characteristics of a nature park and its various areas of activity. The science shows are among the highlights of this event.
Horse-drawn carriage rides will take place throughout the festival, courtesy of the Robbesscheier nature centre. In addition, children can let off steam on a bouncy castle or be part of a water orchestra.
Two special attractions await visitors to this year's Naturparkfest: an interactive science quiz with experiments by Joseph Rodesch (aka Mr Science) as well as a stage programme by Michael Bradke (Mobiles Musikmusem) on the water cycle. The travelling exhibition "Les INSECTES – des super-héros en péril" (Insects – superheroes in peril) will also be present.
Children can also receive a diploma for their participation in the Naturparkfest, as well as the opportunity to win prizes, such as a hot air balloon ride.
With sustainability in mind, disposable packaging has been completely eliminated and local and regional products will be available at the Naturparkfest. In addition, everyone is invited to bring their own bottle to fill with water, ice tea or apple juice from the region free of charge on site.
This year, the Naturparkfest is easily accessible by public transport, with a direct stop (Parc Hosingen) at the entrance.
Venue: Parc Hosingen - Centre écologique (12 Parc, L-9836 Parc Hosingen)
Organiser: Nature Park Our
Price: Free
Reservations: n/a