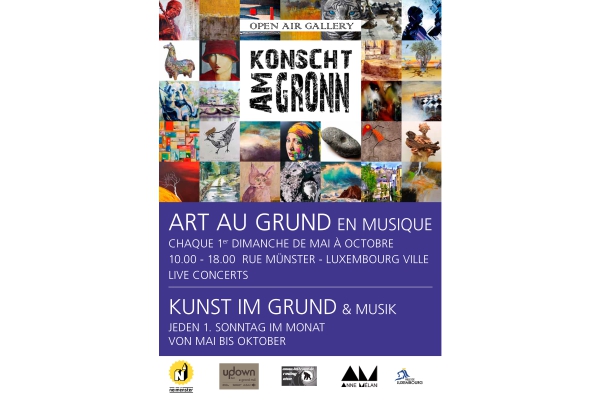 Details:
"Konscht am Gronn" ("Art in the Grund"), an open-air art exhibition, will open on the Grund Bridge overlooking the Alzette on Sunday 1 May 2022 for its seventeenth season.
The exhibition will take place on every first Sunday of the month between May and October 2022, from 10:00 to 18:00, on following dates:
1 May 2022
5 June 2022
3 July 2022
7 August 2022
4 September 2022
2 October 2022
The exhibition offers visitors the opportunity to discover and acquire a multitude of original drawings, sculptures, ceramics and photographs form some twenty artists of eight different nationalities.
As in past years, the Konscht am Gronn will offer visitors concerts by national and international musicians and singers throughout the day.
Public transport
The Luxembourg-ville announced that the line 23 of the municipal buses will be diverted in both directions via Fetschenhof and Pulvermühle and that the Grund district (Stadgronn Bréck stop) will not be served during these days. However, an N23 shuttle to the Grund will be set up from the central station (platform 1), departing at the same times as line 23, both at the station and at the Grund, for visitors for the exhibition.
Venue: Luxembourg-Grund
Organiser: Konscht am Gronn; City of Luxembourg
Price: n/a
Reservations: n/a