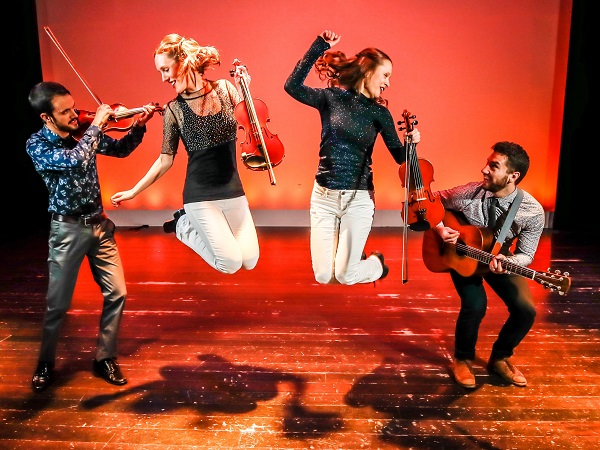 Details:
The Fitzgeralds, a family folk band from Canada, will be playing a concert at CAPE Ettelbruck on Friday 15 October 2021 at 20:00.
The Fitzgeralds are Canada's new fiddle and step dancing sensation, composed of siblings Tom, Kerry and Julie Fitzgerald.
In Ettelbrück, the family band will lead a fiddle workshop for string students at the Conservatoire du Nord. Participating students will then join The Fitzgeralds on stage where they will present the skills they learned.
The Celtic fiddle is the flagship instrument of the young Ontario siblings, but they also play the ukulele, piano and bass. Sisters Julie and Kerry and their younger brother Tom are often joined at their concerts by some of Canada's top guitarists. They also sing, led by Tom.
The siblings are three-time Canadian Grand Masters Fiddle Champions, as well as reigning Ontario Open Step Dance Champions. They have long performed at major festivals in Canada and the United States and, in 2017, they became an internet sensation in Ireland.
The Fitzgeralds' concert at CAPE is a CovidCheck Event. Tickets cost €26 (€13 for under-26s) and can be reserved via tel.: 2681-2681, via email: billetterie@cape.lu or online at www.cape.lu.
Venue: CAPE (1 Place Marie-Adélaïde, 9063 Ettelbruck)
Organiser: CAPE
Price: See above
Reservations: See above